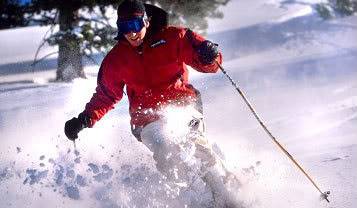 Planning a ski trip vacation to one of the many Colorado timeshares available? There are many ski resorts and numerous timeshares for rent and exchange in this beautiful state. If you'll be a first-time visitor to the majestic Rocky Mountains of Colorado we have some tips for you to help make your vacation enjoyable.
Altitude Sickness
Seeing has how the capitol of Colorado, Denver, is already a mile high, you can imagine what awaits you up in the mountains. For example, Steamboat Springs sits at 6900 fit, Vail is 7900 feet, and the altitude of Breckenridge is a whopping 9600 feet. And that's all before you head further up the mountains for your day of skiing.
Almost half of the visitors to the Colorado mountains experience some form of altitude illness. Symptoms include fatigue, shortness of breath with just minimal exertion, nausea and lack of appetite. The good news is that for most people, this can be a self-limiting problem. Tips for acclimatizing include keeping well hydrated. This means drinking 3-4 quarts of water a day. You'll also want to stay away from tobacco and alcohol during the first couple of days that you're acclimating. And do not succumb to the urge to sleep during the day. Since respirations decrease during sleep that will only exacerbate the symptoms.
Proper Clothing
It's a lot colder at higher altitudes, but wearing one heavy parka isn't the answer. Colorado mountain weather is very changeable. You'll quickly notice the difference when a sunny day with still air becomes much colder when clouds and wind suddenly move in. The solution is to dress in layers. And wear clothing that is made out of breathable fabrics, such as "smart wool" that draws moisture away from the skin.
Sunburn
Ultraviolet light is much more intense at higher altitudes where the atmosphere is thinner. When skiing you're also prone to sunburns due to the reflection of the sun off of the snow. Your face – and your lips – should be protected with sunscreen of at least 15 SPF. Remember to re-apply your sunscreen several times during the day. And be sure to protect your eyes from the intense ultraviolet rays with sunglasses or ski goggles that have UV protection.
Keeping these simple tips in mind will make your Colorado timeshare ski vacation a fun experience that you're likely to want to repeat year after year.