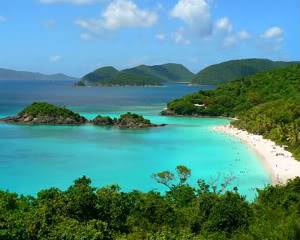 In a previous post "Plan a Timeshare Vacation in Grand Cayman" we mentioned that Grand Cayman's Seven Mile Beach had recently been named "The Caribbean's Best Beach" by Caribbean Travel and Life Magazine. Here we will list several other Caribbean beaches that at one time or another have also been given that title, and are still considered "Best" by those who love them.
Rent a timeshare in the Bahamas and visit amazing Pink Sands Beach on Harbour Island. These rose-colored sands are iconic to the Bahamas. The lovely color is created from the pink shells of microscopic sea animals called Foraminifera that have been washed ashore. Stretching for over 3 miles along side the crystal clear turquoise water of the Caribbean Sea, the pink hue of this beach shows Mother Nature as a true artist. Beyond Pink Sands Beach is a reef allowing for excellent snorkeling.
Rent a Barbados timeshare and explore the island's west coast beaches, collectively called the Platinum Coast – formally known as Barbados' Gold Coast. As opposed to the rougher southern coast, the beaches of the Platinum Coast are considered idyllic, with soft sand and calm, clear waters. Because of the calm waters you'll enjoy great swimming and snorkeling here. And these beaches are often nearly deserted, perfect for those who yearn for peace and relaxation, and romantic strolls.
Most Aruba timeshares for rent are located along spectacular Palm Beach. What has been called "a gorgeous sliver of alabaster sand" this beautiful beach is especially picturesque, sprinkled with palm trees and palapa huts. Palm Beach is located on the southwest coast of Aruba where the soft trade winds will keep you cool as you sunbathe and relax in what many consider a corner of true paradise. Also known as Aruba's "Best Fun Beach" there is plenty to do here, including snorkeling, swimming, and even fishing and sailing. Take a walk from one end of Palm Beach to the other and you'll pass many luxury resorts. Each resort opens its property to the beach, giving you the opportunity to go exploring – find hidden tropical gardens, tinkling waterfalls, and even fun beach bars, all open to the public.