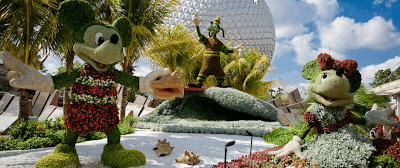 Decorated with thousands of Easter Lilies and all kinds of colorful Easter Eggs, Walt Disney World in Orlando, Florida, is the spring-time place to visit. Join Mickey and Minnie and the entire Disney gang decked out in their Easter finest when you rent an Orlando timeshare or Disney timeshare and enjoy an Easter that is magical like none other.
Lots of fun Easter activities are planned in the Magic Kingdom, beginning with Easter greetings from two of Mickey and Minnie's best friends, Mr. and Mrs. Bunny. Not only will your kids be able to get a fuzzy bunny hug, but they'll also get to see this spring-time couple in the Easter parade.
Epcot will be celebrating spring and Easter in a big way, starting with the huge Epcot International Flower & Garden Festival that stretches from March 3 – May 16, 2010. Literally millions of flower blooms will cover Epcot and the International pavilions. The Disney-themed topiaries scattered around Epcot will be sure to delight the youngsters. Imagine seeing Mickey and Minnie, Donald Duck and Goofy – completely made out of flowers!
The kids will also be thrilled with close encounters of hundreds of beautiful butterflies in Minnie's' Magnificent Butterfly Garden. And other Epcot children's Easter activities include an Easter Egg hunt for 3-9 year olds, and an Easter Egg relay for kids 6-12.
The festival also offers demonstrations and hands-on experiences in gardening, taught by Disney's award-winning horticultural staff, as well as many celebrity garden experts. You can even take a behind-the-scenes tour exploring what it takes to put on this amazing festival.
Even Epcot's various countries get involved with the festival. For example, visit the United Kingdom to learn about English Tea Gardens. In Italy you'll encounter Amore nel Giardino (Love in the Garden) and learn the secrets to creating cascading floral containers. In Japan it's the ancient art of Bonsai taught in a beautiful Japanese Garden setting.
In the evenings attend the "Flower Power" concerts held at Epcot's American Gardens Theater. During the festival the clock will be turned back to those heady days of the 1960s and 1970s when "Flower Power" ruled. You'll truly be transported back when you watch David Cassidy sing "I Think I Love You," and Tony Orlando sing "Tie a Yellow Ribbon." Other performers for 2010 include Paul Revere and the Raiders, Herman's Hermits, and Jose Feliciano.
Walt Disney World also offers you an opportunity to attend Easter religious services. Both Protestant services and Catholic Mass will be held at the Contemporary Resort in the Fantasia Ballroom.
Don't miss your chance to make this Easter celebration special for your family. Plan to rent a timeshare for your Easter vacation while resort listings are still available.