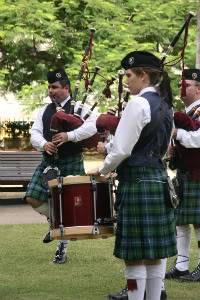 March is known as a transitional month, caught between winter and spring, and it brings its own fun by giving us St. Patrick's Day. This traditional Irish holiday is widely celebrated in the U.S., so plan a "transitional" vacation to get you out of your winter rut. Rent a timeshare and join in the celebrations by a wee bit a' wearin' o' the green – after all, everyone is Irish on St. Patrick's Day!
In Ireland St. Patrick's Day is an annual religious feast day that celebrates St. Patrick, Ireland's patron saint. In America it is a celebration of all things Irish by wearing green, eating traditional Irish food, coloring other foods green, imbibing at Irish-American pubs, and attending parades.
Parades are an essential part of Irish heritage, and St. Patrick's Day parades have a particularly long history in the U.S. The first parade was organized in the colonies by the Irish Society of Boston in 1737. New York City held its first St. Patrick's Day parade in 1762. Since he commanded soldiers of Irish decent in the Continental Army, George Washington allowed the troops to parade and then gave them a holiday on March 17, 1780, as a sign of solidarity with the Irish in their fight for independence.
Today, St. Patrick's Day parades abound across America. Top Ten lists include Chicago, Scranton, Pennsylvania, and Kansas City, Missouri. Rent a New Orleans timeshare and watch a particularly fun St. Patrick's Day parade that has a bit of Mardi Gras tossed in as strings of colorful beads are thrown to the spectators, along with cabbages and potatoes.
Rent a New York City timeshare and attend the largest St. Patrick's Day parade in the world. Upwards of 150,000 marchers are in this parade, including numerous bands, firefighter groups and cultural clubs. It is always led by the U.S. 69th Infantry Regiment, an Irish heritage unit and the originator of the "Fighting Irish" nickname.
Renting a San Francisco timeshare will give you the chance to enjoy the oldest and biggest St. Patrick's Day celebration west of the Mississippi. Here the parade marches along the trolley tracks, and is billed as one of the most fashionable parades in the country. The post-parade Festival showcases Irish culture by continuing the all day fun with Irish entertainment, food and an arts and crafts fair.