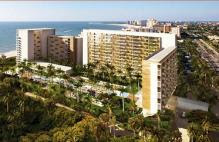 For a truly memorable timeshare rental vacation, plan to stay at Marriott's Crystal Shores resort on Florida's Marco Island. Marriott's Crystal Shores is one of Marriott's newest Vacation Club resorts (the first phase opened in March, 2009) and quickly was listed as one of the "Top 25 Best Timeshare Rental Resorts" selected by RedWeek.com users.
The largest of the "Ten Thousand Islands" located on the Gulf of Mexico off Florida's southwest coast, Marco Island is 6800 acres (4 miles wide and 6 miles long), and just 90 miles from Miami. This large barrier reef island is surprisingly diverse with high sand hills, slash pine forests, quartz sand beaches and mangrove swamps.
Marriott's Marco Island beach resort offers Gulf-front, Gulf-side and Gulf-view villas. The wrap-around balconies and floor-to-ceiling sliding glass doors allow for unobstructed views of frolicking dolphins and spectacular sunsets. There are two pools, including a shallow pool for the little ones, and a water slide. The Kid's Club also offers many activities to keep the younger set busy. The resort boasts beachside dining, easy access to all of the activities of Naples, and tours to Everglades National Park.
Marco Island is known for some of the best "shelling" of any beach destination in the world, where you can find hundreds of shells at low tide. Archeological studies have revealed that around 6000 years ago the Calusa Indians (probably descendants of the Mayans), who inhabited the island, found good use for the many shells. They built large mounds using millions of shells, where they lived in fine protection from hurricanes. They also used shells to build burial mounds, one of which can be seen when you take the fascinating self-guided historical tour of Marco Island.
Other activities on Marco Island include parasailing, boating, and charter fishing, both off-shore and on Florida's inland waterways. The calm, warm waters of the Gulf offer wonderful opportunities for swimming and the sugar-sand beaches are perfect for sunbathing and relaxation.
As you consider your next timeshare rental family vacation at Marriott's Crystal Shores, read what one RedWeek reviewer said: "Just got back from Marriott's Crystal Shores. Like everyone has said, gorgeous, classy, and attention to detail is what sets this resort apart."