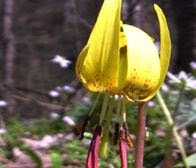 Spring has sprung! Even though Old Man Winter isn't giving up without a struggle and the occasional snow squall backs us up a step or two, temperatures are on the rise, flowers are starting to bloom, and its time to pack winter away. One of the best ways of celebrating the official arrival of spring is to see the glory of spring in bloom. And where is the best place to do that? Wildflower National Park, of course!
Also known as Great Smokey Mountains National Park, this is where spring bursts upon the planet in thick, stunning floral tribute, up hillsides, down canyons, over glens – acres and acres of colorful flowers. Rent a Gatlinburg timeshare in, TN, the "gateway" to the Great Smokey Mountains National Park. An easy few miles drive from your timeshare, and each day you'll find yet another trail to hike, another forest to explore.
Great Smokey Mountain National Park has over 800 miles of trails, for all kinds of activity levels and all kinds of interests. There are trails for walking, trails for hiking, trails for biking, and trails for horseback riding. And all them are surrounded by blooming wildflowers. In fact, Great Smokey Mountains National Park has over 1660 different spring wildflowers, more than any other national park in North America. Imagine being inundated with brilliantly colored azaleas, rhododendrons, trilliums, dogwood, orchids, and enveloped with the sweet smell of violets, or the heavy perfume of irises.
If you're starting to get spring fever, and an itch to get outdoors, plan to attend the Spring Wildflower Pilgrimage, an annual five-day event hosted by Great Smoky Mountains National Park. Scheduled April 21 – 25, 2010, there will be outdoor events in the Park, and indoor programs in various venues around Gatlinburg. Activities consisting of everything from natural history walks, to motorcades, to photographic tours, to art classes are a perfect way to celebrate spring like you never have before.
So stay in a timeshare rental in Gatlinburg or near-by Pigeon Forge, and take your family on a spring outing that is sure to create memories to last through the winter, until you can return next year and enjoy the glories of spring all over again.
(Photo by nps.gov)