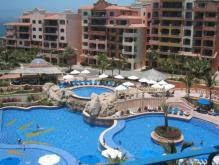 The Playa Grande Resort in Cabo San Lucas, Mexico, has been listed on the Top 25 Timeshare Rental Resorts list by RedWeek users, and for good reason. This hacienda style, all suite resort sits on eight acres of secluded beach stretched along the Pacific Ocean side of Baja California. The dramatic setting and luxurious accommodations set the perfect scene for your dream beach vacation. Unbelievable as it sounds, timeshare rentals at this first-class resort can start as low at $47/night.
Amenities at the Playa Grande Resort include infinity pools, an outdoor Jacuzzi with sunset views, multiple swimming pools with splashing waterfalls, and children's play areas as well as Kids Camp activities. The suites have features such as private balconies, kitchens or kitchenettes, and even water purification systems. Distinctive up-scale touches include marble floors, granite countertops and handcrafted furniture and décor.
An easy 10-minute walk will get you to downtown Cabo San Lucas for great shopping, fine dining and exciting nightlife. It's even easy to stock your timeshare kitchen from Costco or Wal-Mart, where you'll find the prices comparable to the U.S.
Known as the "Jewel of the Baja Peninsula," Cabo San Lucas certainly has something for everyone, from white sandy beaches to world-class scuba diving locations. Some of the best sports fishing in the world is right at your doorstep – you can pull in a game fish for your timeshare dinner table, or to mount and take home for display. At the southern tip of the town is the well-known local landmark sea arch "El Arco de Cabo San Lucas," a distinctive rock formation. You can see many sea lions here who also find this a popular spot.
The Playa Grande resort is located on Baja California's most exclusive and private beach in what has become the up-scale vacation destination of Cabo San Lucas. You might be amazed to find yourself luxuriating on vacation in such a place, and it's affordable by renting beautiful budget timeshares at this resort. Soon you'll be adding your own raves to reviews such as these:
"We've stayed at many of the resorts in Cabo and Playa Grande is, hands down, our favorite resort."
"This resort is beautiful and luxurious, and there's simply nothing more to be said. We've been coming back for 8 straight years."
"Playa Grande is the most comfortable resort we have ever stayed at. We also enjoy deep sea fishing and catch marlin every year. We would highly recommend Playa Grande to anyone who is planning a trip to Cabo."