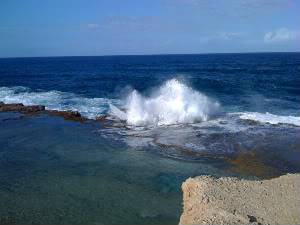 Come visit Barbados, a unique Caribbean island. Rent a Christ Church timeshare in or St. Philip timeshare and explore an island that has one foot in and one foot out – of the Caribbean scene. Barbados is located on the far eastern edge of the Caribbean Sea, its western coast along the Caribbean Sea and its eastern coast in the Atlantic Ocean.
The total land area of Barbados is a respectable 166 sq. miles. A huge North Atlantic Ocean sub-marine mountain range rises above sea level in only one spot, creating the island of Barbados. Like many of its Caribbean neighbors, Barbados offers beautiful white, and pink, sandy beaches along calm, turquoise waters. However, the rough and tumble waves from the Atlantic Ocean on its east coast offers a water sport lacking at most other Caribbean Islands – surfing.
Another unusual water activity is taking a submarine ride. You can dive 150 deep into the Caribbean Sea aboard an 80-ft submarine, for the remarkable experience of seeing the incredible sea life teeming at that depth.
Barbados was a British colony for three centuries, winning its independence from Great Britain in 1966. Maintaining membership in the British Commonwealth of Nations, Barbados also keeps Queen Elizabeth II as its head of state. This island-nation affectionately calls itself "Little England," and is known for many British influences on daily life, including everything from place names, to driving on the left, to afternoon tea.
Among the historic attractions for visitors is the Barbados Museum, built in the former British Detention Barracks. Many of the museum's individual galleries are housed in actual prison cells.
By planning a timeshare vacation on Barbados you'll discover a remarkable island. As its coastline changes from tranquil to wild, so does its interior. Undeveloped areas contain tropical woodlands and mangroves, while other areas are dotted with large sugarcane estates and wide, gently sloping pastures. Even in its life style there are contrasts, where you'll enjoy a pronounced laid-back atmosphere punctuated by explosive nightlife. Barbados does seem to have it all for a great timeshare vacation.
Categorized in: Caribbean timeshares, Christ Church timeshare, rent a timeshare, St. Philip timeshare, timeshare vacation