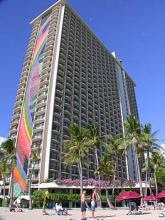 Hilton has announced plans to double the capacity of timeshare units at the Hilton Hawaiian Village Beach Resort, located in Honolulu. In addition to the seven towers that make up the resort, two more towers are now in the planning stages. Construction will begin in 2013 and be completed in two years.
The president of the Waikiki Improvement Association, Rick Egged, stated that the project "will bring more visitors to Waikiki, which will bring in more investment and tourism dollars."
Predictions for the stabilization of the economy and the number of Chinese visitors expected to visit the United States, is what helped Hilton make the decision to add onto the property. The University of Hawaii Research Organization claims that visitor arrivals will increase by 2.9 percent this year. Chinese tourists visiting the United States is expected to increase by 15 percent, says the Hawaii Tourism Authority, reaching more than 550,000 visitors, and Hawaii is a prime destination.
"Hawaii's economic recovery has begun," the UH economists declared last week. "Employment is stabilizing and many sectors will begin to add modest numbers of jobs as the year progresses."
Set on the soft sand beach of Waikiki, Hilton Hawaiian Village is a destination unto itself boasting the perfect location for timeshare travelers. This resort offers guests cozy studios and spacious one-, two-, and three-bedroom villas that are equipped with a full kitchen and air conditioning. Each floor has it's own washer and dryer. Perfect for families or honeymooners.