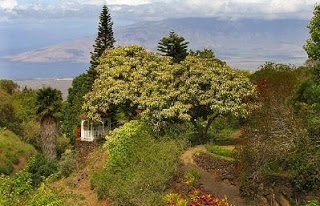 Everyone knows that the Hawaiian island of Maui has beautiful beaches, great snorkeling, and is the windsurfing capital of the world. But plan a timeshare rental vacation on Maui and discover a part of the island where pine trees replace swaying palms, and where the scent of lavender replaces the fragrance of orchids. This is Upcountry Maui, and it defies all of your expectations of Hawaii.
Warm days, cool nights, rolling green hills dotted with groves of Eucalyptus trees, pastures with grazing horses and cattle, even a forest of flourishing redwoods, all with spectacular views of Maui's central valley and its North and South Shores…Upcountry Maui is its own unique form of paradise.
Upcountry Maui encircles the majestic Haleakala Crater, beginning below the cloud layer, and going up to about the 3,000 foot level. Pukalani is the largest town in Upcountry and its here you'll find Upcountry's golf course at the Pukalani Country Club.
Makawao is a quaint and friendly place, nestled on the border of the wetter Haiku area. Up from Makawao is Olinda Road where you'll drive through peaceful farms and ranches. Rainbow State Park is also up Olinda Road and is a perfect spot for a picnic.
The community of Kula "is like an enormous flower basket." A number of gardens, including Enchanting Floral Gardens and Kula Botanical Gardens (see photo), offer walking tours. The combination of rich volcanic soil and the ideal climate associated with Kula's elevation have also made this area one of Maui's true breadbaskets. Kula will surprise you with a number of crops that one does not associate with Maui. Kula is famous for its sweet Maui onions and farm produce as diversified as strawberries, avocados and corn. Grapes are grown here for wine making, and Kula coffee is gaining a foot-hold.
Poli Poli State Park is a thick forest canopy with a wide variety of imported trees, including giant redwoods that were planted a century ago. The park offers refreshing mountain walks and is also a popular place for horseback riding where your guide will pick mangos right off the trees for a refreshing treat on the trail.
The two largest ranches of Upcountry are Ulupalakua Ranch above Wailea, which is 30,000 acres, and the 20,000 acre Haleakala Ranch in the Makawao area. Ulupalakua is where you can have fresh Maui beef for lunch while sipping a glass of Maui wine made at Upcountry's Tedeschi Winery. And be sure to attend the Makawao rodeo – the season starts each spring and culminates in an exciting massive rodeo on the Fourth of July.
Amazing Upcountry Maui is yet another reason to plan a fun-filled Hawaiian timeshare vacation. It'll truly be a different Hawaiian experience that the entire family will talk about for years. See all Maui timeshares.