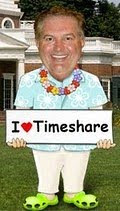 RedWeek.com now has a Timeshare Ambassador named Seymour O. DeSytes. He describes himself as a "serial vacationer" with over thirty years of timeshare experience and know-how. We're very excited that he has joined our team and we will be sending him on weekly road trips to sniff out the best deals on timeshare rentals, resales, and exchanges. While he's on the road, he'll be spreading the word about the benefits of timeshare travel, and report back to us every Monday with a story about where he went, the timeshare he stayed in and all the fun he had!
Want to read about Seymour's travels? Just visit his blog at: The-Timeshare-Ambassador.com. So far he has visited New York and Virginia. And to make it fun and interactive, we want you to get involved! Once a month Seymour will post a photo called "Where's Seymour". The first person chosen at random who can correctly identify his location will win a free prize. This month Seymour is giving away a one year membership to RedWeek.com, a $14.95 value.
To play the Where's Seymour? game, visit The Timeshare Ambassador blog and cast your vote. You must be a registered guest or member of RedWeek.com in order to vote. Guest membership is free and if you are not already a RedWeek.com guest, you can become one quickly on Seymour's blog when you cast your vote. And, while you're there, don't forget to subscribe to Seymour's posts via RSS or Follow him via Google Friend Connect. You'll see both those options on his blog.
Thanks for helping us welcome Seymour to the RedWeek family!
Categorized in: redweek.com, timeshare ambassador, timeshare rentals, where's Seymour