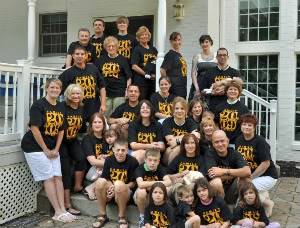 Summer is almost here! And what will a lot of you be doing this summer? Attending a Family Reunion, of course! And the best way to plan a family reunion, hands down, is by renting timeshares.
There are many family-oriented resorts where you can rent as many timeshare units as you need to accommodate your family group. Keep in mind that a normal timeshare rental will sleep a minimum of four, in separate sleeping areas, and you can go up to usually a maximum of 8 in a single unit. How much better is that than trying to get a lot of cramped hotel rooms lined up for the party?
Since each unit also comes with a separate living room, often a dining room, always a kitchen, and frequently the bonus of an in-unit washer and drier, you have to admit that timeshare rentals is a great way to accommodate a large group of people. On the business-side of things, a single unit is almost always less expensive than a hotel room, and if a couple of families share one unit, splitting the cost makes the timeshare rental so affordable – how could you pass it up?
And, we've saved the best news for last…the timeshare rentals are attached to luxury vacation resorts. Not just a hotel sitting on cement in the middle of an urban area, with maybe one dinky swimming pool. Instead, your timeshare rental will put you smack down in the middle of vacation heaven. Swimming pools, water slides, hot tubs, tennis courts, arcade game rooms, activities such as line dancing lessons and ice cream socials and arts and crafts and culinary lessons and golf and the list just goes on and on.
Some ideas for fantastic Family Reunion timeshare destinations include: Orlando, Florida (the theme park capital of the world), Walt Disney World, Florida ('nuff said), the Harborside at Atlantis resort in the Bahamas (what a treat that would be, and budget-friendly, too), the Hilton Hawaiian Village on Waikiki (a great family-oriented resort), the Villa Roma Resort in the New York Catskill mountains (one of the top-rated family resorts in the country), Myrtle Beach and Hilton Head, South Carolina, resorts (world-famous beaches), Pigeon Forge, TN, resorts (for family-friendly Dollywood), and of course Las Vegas (so affordable and there's something for everybody, even the little ones).
Here's to happy Family Reunions, lots of Family Fun, and the best – special Family Bonding that will last a lifetime.
(Photo of the Mickaela family reunion from photobucket.com)