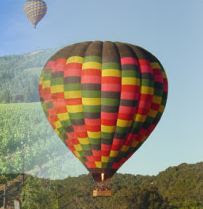 Taking a hot air balloon ride is one of those extravagant adventures many people have on their list of "things to do!" And, as you plan your timeshare rental vacation this year, you can experience "the romance and adventure of balloon flight," (as one balloon company describes it) as you hop into a wicker basket, to be carried aloft into the peace and beauty of a different world under a beautiful, billowing balloon.
The hot air balloon is the world's oldest successful "human-carrying flight technology," remarkably originating over two hundred years ago. Today's balloon companies have come up with some mighty poetic descriptions of what it's like to rise above the earth on a hot air balloon ride. To wet your appetite, consider these: "Your nature walk in the sky." "Gently leave the bonds of earth." "…depart on the winds of space." And "Free of the earth and all your cares, you will soar as if by magic to places where only your imagination has flown before."
Ready to go? Well I should say! A Napa timeshare rental in California, will give you not only a wonderful adventure through world-famous vineyards, but when you take a balloon ride you'll float high over the rolling vineyard hills and stands of giant redwood that create the patchwork of colorful hues of California's beautiful Wine Country.
Rent a Palm Springs timeshare in California, and with a hot air balloon ride you'll soar above a desert that is also surrounded by snow-capped mountain peaks. The rich green tapestry of the many golf courses, the landscaping of the resorts, and acres of feathery date palms, is a remarkable scene from high above.
An Arizona timeshare rental in Phoenix or Lake Havasu, will give you the chance to take a hot air balloon ride above a different kind of desert terrain – soft desert colors, sandy arroyos, patches of twisting mesquite. You might even be able to see quail, roadrunners and coyotes running across the ground below you.
Just an hour's drive from your New York City timeshare is a Tewksbury, NJ, balloon company that will take you flying over "lollipop green" hills. Rent a timeshare in the New England area (Maine, Massachusetts, Vermont, New Hampshire, Rhode Island or Connecticut) and take a hot air balloon ride from one of its many balloon companies for a spectacular view of autumn foliage like you've never seen before.
(Photo provided by balloonrides.com)