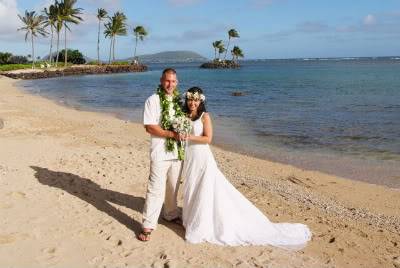 Wedding Season is coming up! Are you wondering what perfect wedding gift to give the happy couple? Consider the gift of a timeshare rental vacation. There are many timeshare rentals available all over the country and in the Caribbean and Mexico as well. Book a week at one of their favorite resorts, or at a destination where they've always wanted to go, and wrap it up with a big, pretty bow. Timeshare rentals are so budget friendly that this can really be an affordable gift.
Many couples just starting married life find that penny-pinching is a lifestyle, at least at the beginning. That means that next year's vacation may have to take a back seat to the mortgage. And that's where a timeshare rental wedding gift comes in. Imagine the look on their faces when they open your gift and realize that they have a real vacation to look forward to! Sure beats having to take back ten toasters.
A timeshare rental in Las Vegas, off the Strip, can start as low as $50/night. Include with your gift a list of all of the free things to do in the "Entertainment Capital of the World," and this gift will be a real hit. There's nothing like spending the afternoon soaking up the sun by the pool, then as night falls strolling along the sidewalk to watch one free show after another. From the dazzling dancing fountains in front of the Bellagio to the volcano in front of the Mirage that erupts and spews "lava" a hundred feet into the air, there are so many free activities and events in Las Vegas that a cup of nickels for the slot machines will be the big expense.
Or how about a gift of an Orlando timeshare rental? Here you can find resorts that have so many on-site activities that your couple will find no reason to even think of going to the theme parks. Of course, Orlando does have the highest concentration of theme parks of any where in the world. From watching trained whales at Sea World, to riding a Hippogriff at Universal Studios' "The World of Harry Potter," to all things Disney, your couple might just enjoy visiting the theme parks, too. This is where you can partner with other wedding guests who can contribute theme park ticket gifts to your vacation idea.
There are plenty of budget-friendly timeshare rentals for tropical beach vacations. Florida has sugary sand beaches, South Padre Island, Texas, is as tropical as you'd ever want to get, and San Diego beaches are perfect for everything from sunbathing to surfing. You can find timeshare rentals at luxury resorts in these places for real bargains.
So think out of the box, and give the happy couple a wedding gift that comes with memories that will last a lifetime.
(Photo from photobucket.com)