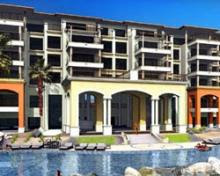 Casa Dorada at Medano Beach Resort, located in the heart of Cabo San Lucas, Mexico, gets rave reviews from RedWeek users and makes it to the Top 25 Timeshare Rental Resorts list. This luxury resort sits on 5 acres of pristine Medano Beach shoreline, includes a private beach, spa center and gym, and boasts unobstructed views of Cabo's famous Land's End and the Arch. An intimate alternative to the more crowded Cabo San Lucas hotels, you can enjoy a timeshare rental vacation here starting at just $171/night.
Casa Dorada offers more than just majestic ocean views. Besides two infinity pools both with swim up bars, there is a private beach club complete with plush day beds and limitless water sports, and the "best swimmable beach" in Cabo San Lucas. Cabo's finest restaurants, world-class shopping, and exciting nightlife are all just a stroll from your Casa Dorada timeshare, saving you taxi fare. Also just a short walk will get you to Cabo's yacht and fishing marina.
The elegantly appointed one, two and three bedroom suites and magnificent penthouses feature private terraces, dazzling ocean views, Jacuzzi-equipped marble bathrooms, and upscale furnishings by celebrated designer Adriana Hoyos. You'll also enjoy a fully equipped kitchen in your timeshare, as well as outdoor fire pits and barbecues. Family-friendly features such as outdoor Jacuzzis, a Kids Club, and a 7,000 sq. ft. spa and fitness center are just more of this incredible resort's many amenities. Complimentary wireless internet access is also available in each suite.
Read what RedWeek reviewers have to say about Casa Dorada:
"We just spent two weeks at this Resort with our two young children 7 and 10. The staff at the Resort were great coming around the pool and asking us for input on the music that we would like to hear, bringing cold towels and we never had an issue getting a good lounge chair or seat around the pool anytime of day. The Ocean was absolutely magnificent to swim in. We ate a little around the pool but for the most part either cooked in our room or walked within 10 minutes of the Resort which included more restaurants than we could mention with everything and anything that you can think of."
"The place was AMAZING! The rooms are fabulous and have a magnificent view of the arch."
"This resort is A+++."
Categorized in: Cabo San Lucas Timeshares, Casa Dorada, Medano Beach Resort, redweek, Top 25 timeshare rental resorts