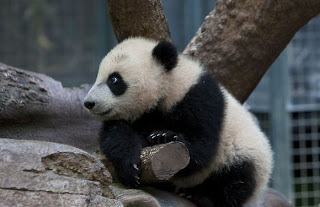 San Diego, California, is an amazing place. It sports fabulous beaches for everything from sunbathing to major surfing. A tour around the beautiful harbor will show you every kind of boat from dingys to yachts to nuclear-powered aircraft carriers. An hour's drive will take you to see the Anzo-Borrego desert in spring bloom, or up into mountains for an autumn apple festival in Julian. Rent a timeshare in San Diego and you have it all, any time of the year.
Not the least of which is the incomparable San Diego Zoo. At this world-famous zoo, fully 95% of the employees have a degree in zoology. The zoo exhibits over 800 animal species; almost double the number of most other zoos. "We pride ourselves on having the most diverse collection of animals of any U.S. zoo," says Richard Farrar, director. "We also loan out over 2,000 animals to zoos around the world for breeding programs."
San Diego is the only American zoo to successfully breed, birth, and rear healthy giant pandas (see photo), and it's one of only four zoos in the U.S. to have them on exhibit. The entire family will thrill at seeing the antics of these animals that define "cuteness." Three giant pandas, including Mei Sheng, are on exhibit in San Diego.
The San Diego Zoo pioneered the concept of creating habitats rather than steel bar cages, and now most major zoos provide the same natural-type settings for their exhibits. In San Diego, for instance, the "Tiger River" exhibit "re-creates a rainforest in south-east Asia with a lush treetop canopy and waterfalls that pour into a gurgling stream."
One of the most visited southern California attractions is San Diego Zoo's sister facility, the Wild Animal Park. Located in San Pasqual Valley, this free-range animal exhibit is less than an hour's drive from your San Diego timeshare. The 1800 acre park houses over 3,000 animals of 400 species. And the Park is rightly proud of its world-renowned exhibit of 3,500 species of rare plants. It also has the world's largest veterinary hospital.
Add to your San Diego vacation the original Sea World, the Old Globe Theater (which won the first Broadway Tony award ever given to a regional theater), Balboa Park with its myriad things to do including hiking and biking trails, and the many other San Diego activities too numerous to list, and you'll want to take up permanent residence in your San Diego timeshare!
Categorized in: Family Vacation, rent a timeshare, San Diego timeshares