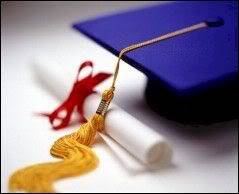 It's college Graduation season! And the big test question is – What do you get the college graduate in this day and age? A pretty pen just won't do it any more. Test question answers that garner high marks often come from thinking outside the box. So here's a suggestion: a great graduation gift is a timeshare rental vacation. You can either send the graduate (and family, or a group of friends) on a much deserved rest or to a destination that ties in with the subject of that hard-earned degree.
For example, an art major would enjoy getting to stay at the Manhattan Club in New York City and spending time in that city's many art museums. The Guggenheim Museum, world famous since its opening in 1959, might also appeal to an architecture major. Not only does this museum house some of the world's most revered paintings, but its iconic building was the last major work by architect Frank Lloyd Wright.
A Washington, D.C., area timeshare rental would allow the art major to see paintings in the National Gallery that are so well known that most American children have seen them in textbooks since grade school. What a thrill to see them in person! Washington, D.C., is also a great destination for both history and aeronautics majors.
American history majors would certainly enjoy staying at a timeshare in Boston. Walking the "Freedom Trail" definitely brings the beginnings of America up close and personal. And from Boston America's real start can be seen in Plymouth, just an hour away. Or send the history graduate to the Historical Triangle in Virginia, where a timeshare rental in Williamsburg also gives access to Jamestown and Yorktown.
If the graduate just needs a break, how about a timeshare trip to the Caribbean? There are so many budget Caribbean timeshare rentals on their many islands that you're bound to find a good fit. Remember that Puerto Rico does not require a passport. San Juan is known for its nightlife, and the island's white sand beaches alongside azure blue waters are as relaxing and beautiful as anywhere in the Caribbean.
From the west coast send the graduate to a Hawaii timeshare. Each Hawaiian island has its own distinctive personality, and each has timeshare rentals easy on any budget. The miles of beaches along beautiful coastlines, soft trade winds fragrant with the scents of orchids and plumeria blossoms, and stunning sunsets – all will work wonders on any graduate.