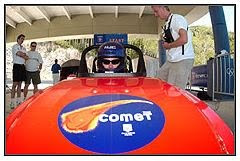 Late spring snows this year are keeping some of the ski resorts in the west open later than usual. You can still plan a ski timeshare vacation in Colorado, Utah and Lake Tahoe, California. But did you know that once the warm summer days melt the white stuff, there is still lots of family fun at the beautiful ski resorts around the country? Think "summer fun at the slopes"!
Park City, Utah
Rent a Park City timeshare at a mountain resort and discover all that there is to do at a ski resort in the summer. The 2002 Winter Olympic Games were hosted here, and a visit to the ski museum at Olympic Park will get you up close and personal to those special games that were held just months after 9-11. At the museum you'll want to get tickets for a freestyle show. The entire family will get a thrill out of watching Olympic hopefuls practice amazing acrobatic ski and snowboard jumps – landing in a 750,000-gallon "splash pool." Your teens will love the 70mph "Comet" bobsled ride (see photo) with a professional driver. For kids under 14 (and wimpy parents) the tamer, but still exciting, alpine slide ride might be in order.
Smuggler's Notch, Vermont
Rent a Smuggler's Notch timeshare and experience one of the top-rated family resorts in the country. Known for its kid-oriented winter snow activities, Smuggler's Notch is just as kid-friendly in the summer. This is a fun vacation destination that encourages all visiting families to mix and mingle with pot-luck picnics, bonfires, and family karaoke get-togethers.
Special activities your kids will enjoy include overnight campouts and theater classes, and especially the resort's four water parks, complete with eight pools and four wild slides. There are also six playgrounds, two teen centers, and a childcare facility called Treasures (ages 6 weeks to 3 years).
Jackson Hole, Wyoming
A summer timeshare rental in Jackson Hole puts your family in good position to visit two of America's most popular national parks. The incomparable Grand Teton National Park will be right out your front door where you can hike, bike and horseback ride through stunning scenery. An easy drive will take you to fun and fascinating Yellowstone National Park where your kids can have close-up encounters with shooting geysers and bubbling mud pots.

Just to remind you that you are in the real west of Wyoming, nightly "shoot-outs" are staged in Jackson's town square. Exciting Wild West rodeos are held in Jackson twice a week through-out the summer.
So, when planning your family summer vacation, don't forget ski resort timeshare rentals – for some great summer family fun.
(Photo provided by olyparks.com)