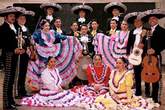 It's Cinco de Mayo! And that means it's time to party as this festival day is being celebrated all across the U.S. "Cinco de Mayo" translates to "Fifth of May" in Spanish, and commemorates the Mexican army's surprise victory over French forces in 1862.
Although it is an insignificant holiday in Mexico, basically celebrated only in the Mexican state of Puebla where the original battle took place, in the United States it has become a popular day to celebrate Mexican heritage and pride. In cities that have large Hispanic populations, Cinco de Mayo celebrations can actually last several days, with parades, dances, music, and of course great food.
When you plan your vacation for next year, think of renting a timeshare where you can join in the happy festivities. A southern California timeshare rental will allow you to experience special events such as the Baile Folklorico and Mariachi demonstrations held at the Plaza del Pueblo Los Angeles near Olvera Street in Los Angeles. And at San Diego's historic Old Town there's live Cinco de Mayo entertainment on 3 stages at Bazaar del Mundo.
In a Phoenix timeshare, you will see Mexican dancers that symbolize the color, fun and heritage of Cinco de Mayo, while the celebration here also includes outdoor performances of Spanish rock, Latin jazz, salsa, ranchero, and Chicano rock music. The Cinco de Mayo Festival held near your San Antonio timeshare in Texas, includes concerts and other commemorations at historic Market Square. And around your San Francisco timeshare the Mission neighborhood goes all out, offering a joyous Cinco de Mayo celebration that includes free all-day cultural entertainment and tours of historic Mission Dolores.
While staying in your New York City timeshare, you'll find that NYC puts a real kid-friendly spin on its Cinco de Mayo celebrations that occur in various venues. On Staten Island kids can build their own piñatas (candy is included!), and at NY Kids Clubs, you parents can sip a Corona while your little tykes learn Mexican dances.
Adults only are invited to join the celebration at the Hard Rock Café's Pink Taco when you stay in a Las Vegas timeshare, where you'll get drink specials to sample a number of different brands of tequila.
And, of course, the most "authentic" celebration of all can be found in a Mexico timeshare rental. Your timeshare kitchen will be handy for creating Mexican dishes, and make sure you have plenty of tequila and mescal on hand. Add a strand of red chili pepper lights for the finishing touch! After all, it's a Fiesta!