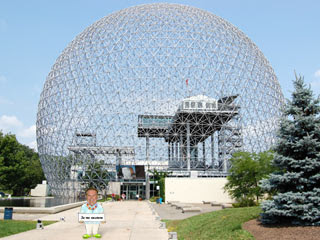 Have you met our Timeshare Ambassador named Seymour O. DeSytes? He posts new timeshare travel adventures every Monday about great destinations he visits. He's quite a character and his travel blogs are very funny. We really enjoy his sense of humor here at RedWeek.com. He keeps us quite entertained at the water cooler. Plus, once a month he holds a contest! Want to play?
Every month, Seymour will be shown standing in a photo. To play, all you need to do to is guess his location! Last month Sandra correctly identified Monticello, home of Thomas Jefferson, as the location for April. For being the first correct answer chosen at random, she won a RedWeek.com Membership!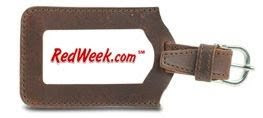 This month Seymour is giving away a Leather Luggage Tag from Saddleback Leather Company, a $14.00 value! To play the "Where's Seymour?" game, visit The Timeshare Ambassador blog and cast your vote. You must be a registered guest or member of RedWeek.com in order to vote. Guest membership is free and if you are not already a RedWeek.com guest, you can become one quickly on Seymour's blog when you cast your vote.
While you're there, read about Seymour's travels. He just got back from Pacific Grove, California where he stayed at the Pine Acres Lodge just 2 blocks from the beach! He was in search of butterflies! Read more at The-Timeshare-Ambassador.com and good luck on the contest!