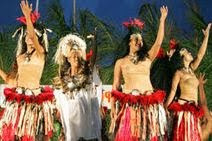 It sometimes seems as though Hawaii is just one big beautiful festival. And Kauai, the lush "Garden Island," is no exception. Plan your next family vacation in a Kauai timeshare and enjoy the wonderful festivals Kauai has to offer. There are numerous budget timeshare rentals available in luxury resorts through-out the island, in the principal towns of Kapaa, Koloa, Lihue, and Princeville.
Whether you're interested in Hawaii's special island music, in Polynesian culture, or in the paintings and sculptures of Hawaii's talented artists, there is a festival for you. The problem is how to choose, since Kauai has an amazing array of festivals and they are scheduled all year long. Kauai's festivals range from the celebration of native Hawaiian ceremonies to lei making contests to reenactments of historic Hawaiian events. You can enjoy hula demonstrations, art shows, and concerts featuring both traditional and contemporary Hawaiian music.
For example, in June, 2010, the festivals are as diverse as the food and drink festival, "The Taste of Hawaii," to the Hawaii Healing Garden Festival, "a festival celebration of Hawaii's health and wellness, green sustainable living, and multi cultural healing arts." In August you can enjoy a two day celebration of Tahitian dancing and drumming at the Heiva I 'I ia Orana Festival, or attend the exciting Kauai All-Girls Rodeo.
To help you choose the perfect festivals that will immeasurably enhance your Kauai timeshare vacation experience, the Kauai County Tourism office, through the Office of Economic Development, has designed a delightful, and informative, web site to promote Kauai's special events.
"An appealing new feature of the web site," states George Costa, director of the OEC, "are the video clips and photos taken at events around the island, showcasing Kauai's abundance of unique cultural activities." Designed to be a one-stop source for things to do on Kauai, the web site not only gives you a glimpse of the actual festivals, but lists the events in convenient month by month categories, along with descriptions and specific information.
Here's just one of the videos on the Bonsai Exhibit and Demonstration for Koloa Plantation Days coming this July 17 – 25, 2010.
So have some fun surfing through the lists of the many festivals and cultural events that Kauai has to offer, choose the time for your travel, and then match the dates up with a budget timeshare rental. And your Kauai vacation will be greater than the sum of its parts!
(Photo provided by kauaifestivals.com)