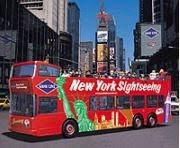 Father's Day will be here before you know it. And isn't he just about the hardest one to find a gift for? Well, let's forget the ties and the socks and think – what can we get him that's "Fantastic!" A timeshare rental vacation is the perfect Father's Day gift for every great Dad out there!
Need some ideas for a Father's Day timeshare destination? How about a city where there is a "Hop-on-Hop-off" Tour? These tours allow Dad to create his own tour of a city, which comes complete with "lively" tour guides to keep the family entertained and informed.
A timeshare rental at the Manhattan Club in New York City will put Dad and the family in the perfect location for the Tour of this fabulous town. Here you'll all be riding the distinctive red double-decker buses, and you can choose from several different tours. The Downtown Loop includes stops at the Empire State Building, Times Square and Rockefeller Plaza. The Brooklyn Loop will take you to the Botanic Garden, Brooklyn Museum of Art, the Antique Furniture District, and much more. For a different spin on the tours try the Night Loop. See the "glittering lights of the city that never sleeps," along with a stop in Brooklyn for magnificent views of Manhattan's night skyline.
A San Francisco timeshare rental will give Dad the opportunity to design his own itinerary of the City by the Bay. The Hop-on-Hop-off tour here covers the beauty and the culture of the bay area, with stops at Fisherman's Wharf, Ghirardelli Square, and Chinatown, among many others. It even includes a ferry ride over to Alcatraz.
A Washington D.C. area timeshare rental will allow Dad and the family to create an itinerary that is sure to please everybody, and in this city the tours take place on a fun trolley. The "Orange Loop" will take you to the National Mall, with stops at all of the Smithsonian museums, as well as stops at every memorial and monument. The "Green Loop" travels uptown through fascinating Embassy Row, to the National Zoo and the National Cathedral. Or choose the "Red Loop" – a shuttle to Arlington Cemetery where you can see the eternal flame on President John F. Kennedy's grave, and watch the precision Changing of the Guard at the Tomb of the Unknown Soldier.
The Boston Hop-on-Hop-off Tour is the easiest way to get around this fascinating city. Rent a Boston timeshare and the family can visit this very historic town by getting off the trolley at 17 different stops, including everything from the Boston State House and Boston Commons to Fenway Park.
Go ahead – give Dad some socks. But hide an announcement of the timeshare rental trip down inside, for a surprise Father's Day gift Dad will always remember.
(Photo provided by hopon-hopoff.com)