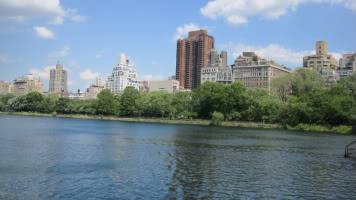 Thinking of a trip to New York City for a summer vacation with the kids? It's an exhilarating idea for sure. But it can also be an expensive endeavor. Unless, of course, you rent a timeshare. Stay near Central Park to be in the middle of the action for an attraction that is not only affordable, but often free, and can keep every member of the family happily occupied for your entire New York City stay.
Central Park is in the middle of Manhattan, and attracts over 25 million visitors a year. Its 840 acres stretch for 2.5 miles, and a full half mile wide. It was opened in 1859 as a response to the growing need of the city's burgeoning population for a public park. Up until that time the citizens of New York City could only find peace and out-door relaxation in the city's cemeteries!
Although Central Park looks as though it is covered with natural woods, meadows, lakes and ponds, it is a completely landscaped-designed outdoor space. It has extensive walking tracks, biking and hiking trails, bridle paths, two ice skating rinks (one of which is a swimming pool in July and August), a wildlife sanctuary, the Central Zoo, and the Central Park Conservatory Garden. The open air Delacorte Theater presents the popular, and free, "Shakespeare in the Park" summer festivals. Celebrating its 25th Anniversary in 2010, the Central Park Summerstage offers a series of free performances including music, dance, and film presentations. Numerous grassy areas invite you to spread a blanket and pull out a picnic basket.
Natural glaciated rock outcroppings scattered through-out Central Park attract rock climbers known as boulderers. The two most popular spots for boulderers are Rat Rock and Cat Rock; others include Dog Rock, Duck Rock, and Rock N' Roll Rock. At 22 acres the Lake in Central Park offers "one of the most peaceful and bucolic settings existing at the center of any city in America." Rowboats are for rent mid-April through October.
Central Park has to be one of the most kid-friendly places in America. With a whopping 37 different playgrounds, each distinctly unique, your children will be happy spending the entire week in Central Park. Master puppeteers put on children's shows at the Swedish Cottage Marionette Theater. Other programs just for kids range from children's yoga to modern art classes and even wind chime making classes. See all New York City timeshares.
So rent a budget timeshare, walk to Central Park, and enjoy an affordable family vacation – just for the fun of it!