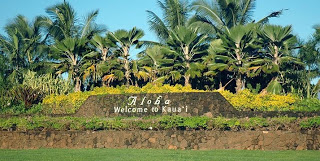 Hawaii isn't just one big vacation destination, but instead is made up of several distinct areas, each island being unique unto itself. The same thing can be said about Hawaii's island, Kauai. Stay in a Kauai timeshare rental and explore Kauai's four special regions of East Side, West Side, North Shore, and South Shore.
East Side Kauai
East Side is known as the Royal Coconut Coast and was once the home of Hawaiian Royalty. Highlights of this region include the Wailua River, the only navigable river in the entire state of Hawaii, which you can explore by kayak. Just south of the Wailua River is Lydgate Beach Park with two lava rock-enclosed ocean pools, great for little keikis (children). See Kapaa timeshares.
West Side Kauai
West Side is defined by stunning scenery on a grand scale. Here you'll find one of Kauai's biggest attractions, Waimea Canyon, known as the "Grand Canyon of the Pacific." This massive canyon provides grand vistas that seem to go on forever. It also provides 40 miles of hiking trails. Kalalau Valley Lookout is at the end of Waimea Canyon Drive. A must visit for photographers, this 4,000-ft high overlook spreads the Kalalau Valley out before you, clear to the horizon, where the majestic Napali coast starkly rises up out of the sea. See Lihue timeshares.
North Shore Kauai
North Shore is perched between mountains and sea, and is made up of historic sites and quaint towns. Ka Ulu 'O Laka Heiau is a historic temple dedicated to Laka, the goddess of the hula. You'll find the temple remains draped with leis and see hula dancers who come here to practice. Enjoy a self-guided tour of the Limahuli Garden and Preserve, a botanical garden which showcases Hawaiian culture as well as beautiful native plants on gleaming agricultural terraces. See Princeville timeshares.
South Shore Kauai
South Shore was once the main port of entry to Kauai. Take the 10-mile Koloa Heritage Trail, which allows you to explore relics of local history. The town of Koloa was Hawaii's first sugar plantation, and retains much of its old charm. Po'ipu Beach Park, one of the most popular beaches in the entire state of Hawaii, is in this region. See Koloa timeshares.
With essentially one main road on Kauai, it's easy to explore all four of Kauai's fascinating and individually unique regions. A Kauai timeshare is a perfect hub for day trips, and affords you all of the time you need to immerse yourself in this lush, tropic isle.