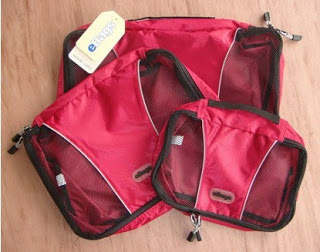 A Travel Product Review by J.W. – RedWeek.com Marketing Manager
Are you getting ready to pack for your timeshare vacation? Well, if your trip is still a few weeks away, we'd like to recommend these great Packing Cubes from Ebags to help streamline your packing process and get you a little more organized.
I first learned about Packing Cubes from J.R. in RedWeek's customer service department. Here's what she had to say, "I have these things and for those items that I always travel with (pj's, swim wear, lounging clothes, underwear) I just keep them packed. When I get home, they go easily into the wash and then back into their packing cube for next time. It cuts my packing time in half, and they manage to make much more stuff be able to fit in your suitcase as well. Magic! Get some if you don't already have them." J.R. – RedWeek.com Customer Service
I ordered a set to review for RedWeek, in the color red, of course. And, by the way, these will be next month's prize for Seymour, our Timeshare Ambassador), so if they look like something you'd like to try, be sure to participate in his "Where's Seymour?" contest for your chance to win.
When I ordered them I was thinking, "wouldn't these take up more space and not really be necessary"? But, after receiving them I was quite impressed. They actually help save space in the suitcase. They are a lightweight fabric and well constructed. I like that you can see what's inside with the mesh lid and the handle on top of each bag makes it easy to drop them where you need them. I can see how great these would be as your go through airport security. It's very easy to see what is inside and check between them without items being shuffled out of place.
I just recently returned from an overnight trip with my husband and 2 young children and these bags would have been perfect for keeping everyone's clothes organized separately in the one bag we packed. Everyone could have their own cube containing their clothes and the smallest bag would have held all our cell phone and camera recharging cords, (which often get lots in the suitcase). Plus, they come in 5 colors.
I can't wait to order a set of these for myself and use them for my personal timeshare vacation this summer at the Hilton Hawaiian Village! I think they are going to be great at keeping everything organized and with 2 small children on a vacation, who doesn't need more organization!?! Happy traveling!