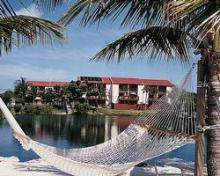 You may be wondering about Florida as a travel destination lately, with the threat of the oil spill in the Gulf of Mexico off the coast of Louisiana. Although it is threatening, Florida is a big state, with 825 miles of beautiful beaches, 1,260 miles of coastline, and 14 seaports, so it is still an idyllic Florida beach vacation destination and should be considered in your timeshare vacation plans.
Let's take a look at some Florida timeshare rentals that are available, and the great resorts to which they're attached. Starting with the incomparable Marriott Crystal Shores on Marco Island. With soft sand beaches, blazing sunsets, and clear turquoise waters, this is a timeshare vacation destination preferred by many. One reviewer had this to say: "Beautiful place, exceptional service, stunning ocean front view. Great beach and sunsets are spectacular. Our 3 children loved the water slide, shallow pools. The kid's club had many activities and provided a place to go on a rainy day. We would definitely return."
Located just minutes from Naples and Fort Myers, the Hyatt Coconut Plantation Resort in Bonita Springs offers "tropical gardens, warm breezes and sparkling waters." The reviews for timeshare stays here include, "The place is beautiful. Everyone enjoyed their stay. Hyatt does it right. Paradise. Can't wait to go back." "Gorgeous property, great units, very spacious and well kept. Lots to do, great golf course. Exceptional pools, really a great property for kids." And, "Hyatt Vacation Club with all the usually high quality Hyatt features. Lazy river, pools, club house, golf, tennis and the private island beach – you name it, its here."
Fort Meyers Beach is a town that is actually located across two barrier islands, Estero and San Carlos. Nearly half of the town's 6 square mile area is water, offering water activities galore for the vacationer. Have fun with everything from wading and swimming to parasailing and jet skiing. Check out the great Fort Meyers Beach timeshare rentals available on RedWeek.com.
For a different, but stunningly beautiful and incredibly relaxing, Florida vacation, rent a timeshare in the Florida Keys. Although there are no real soft-sand beaches, the tropical paradise feel of the Keys leaves little more to be desired. A timeshare rental at the Florida Bay Club (see photo) in Key Largo will get you started with your own hammock. If you really want to be more active, there is snorkeling and diving in the underwater coral gardens of the John Pennekamp Coral Reef State Park, just a mile from this resort.
Florida has always had a lot to offer, and now is the time to experience a beautiful Florida timeshare vacation yourself!