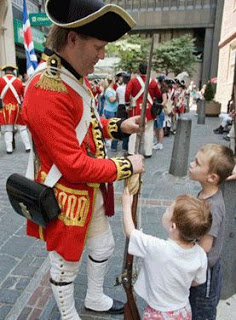 It's time to Celebrate America! And what better way to join in the festivities than to rent a timeshare at one of the following "Best Places to Celebrate the Fourth of July."
Boston Timeshares
The east coast rather has a monopoly on where to make merry on Independence Day, seeing as how it's the site of the birth of America, starting with Boston. Boston is considered one of the premier July 4th destinations, with more than 200 events filling up a week-long calendar. At this patriotic celebration, known as Boston Harborfest (see photo), most of the events are free and include fireworks, concerts, kids' days, cruises, and tours. The main component of Boston's Independence Day festivities is the free Boston Pops Concert and Fireworks Display. Plan to arrive early with beach chairs or blankets to guarantee good seats. A timeshare rental in historic Boston will put you in the perfect spot to whoop it up for the U.S.A. See Boston timeshares.
Cape Cod Timeshares
Just over an hour from Boston is where you can rent a timeshare on Cape Cod. Using this as your hub, you can choose from several Independence Day celebrations on Cape Cod as well as its neighbors, Nantucket Island and Martha's Vineyard. On Cape Cod don't miss the Hyannis Boat Parade "a veritable fleet of patriotically decorated boats and yachts." For old-fashioned family fun, head to Nantucket for a picnic with three-legged races and even a tug-o-war.
San Diego Timeshares
On the west coast, rent a San Diego timeshare and join the revelry of barbecues, bonfires and fantastic fireworks. From carnivals to the San Diego County Fair to the Freedom Day Parade, you'll find plenty to keep the family entertained while waiting for the real action – the no-holds-barred, all-out fireworks display of the Big Bay Celebration, shot from barges off Harbor Island and Shelter Island.
Caribbean Timeshares
Rent a Caribbean timeshare and celebrate the Fourth of July in the U.S. Virgin Islands. Since St. Croix, St. Thomas and St. John are the only U.S.-owned islands in the Caribbean, they pull out all the stops to celebrate American Independence Day. Here you can party by drinking rum instead of beer, and enjoy the Caribbean-flavored Fourth of July Parade on St. John under swaying palms.
Washington, D.C. Area Timeshares
Washington, D.C., is the Number One place to be to celebrate America's birthday. Rent a timeshare and head to Constitution Avenue for the massive National Independence Day Parade, which showcases lavish floats, bands, giant balloons, and military groups. As evening falls on the Fourth, the free "A Capitol Fourth" concert kicks off on the West Lawn of the Capitol Building. The grand finale is one of the nation's largest fireworks displays, visually impressive in the night sky above the Washington Monument.