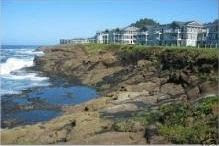 The stunningly beautiful Oregon Coast is a favorite summer vacation destination for many families, who return year after year. Unlike the more tropical sea shores of such places as Southern California, the Texas Gulf coast, and Florida, Oregon's coast along the Pacific Ocean has a wild, wind-blown natural beauty to it.
Rent a timeshare in Depoe Bay, and explore the Oregon Coast yourself. You're likely to fly into Portland, and then drive to Astoria and south down the coast along scenic Hwy 101. The drive itself will be a special part of your vacation as you pass through small picturesque towns and along such world-renowned areas as spectacular Cannon Beach.
Start your exploration with Astoria, the first permanent settlement along the Pacific Coast, founded by John Jacob Astor in 1810, at the mouth of the mighty Columbia River. Then, as you head down the coast toward Depoe Bay, take a quick detour to the town of Tillamook. Here you can tour the main facility of the Tillamook County Creamery Association where the famous Tillamook cheddar cheese is produced.
The town of Depoe Bay has been described as being a "fairy-tale" fishing village, and it maintains that feeling even while it has been transformed into an exciting area of up-scale shops, world-class restaurants, and fascinating art galleries. It is the home of "the world's smallest harbor," where "waves run beneath lava beds creating spouting geysers up to 60 feet into the air, and Sea Caves line the scenic rocky shoreline."
An area teaming with marine life, it's not uncommon to see large groups of seals and seal lions lazily sunning themselves, or swimming along in orderly rows. Depoe Bay is also known as a prime whale watching area, and is home to a resident pod of grey whales that lives here 10 months out of the year. These wondrous mammals can be seen feeding and cavorting, even from your timeshare balcony! The Depoe Bay Whale Center is Oregon's newest State Park and the home of the highly acclaimed "Whale Watching Spoken Here" program.
Make your Depoe Bay timeshare rental your hub, and continue exploring Oregon's Coast. North just 20 miles is Lincoln City where you'll find the Chinook Winds Casino and outlet stores. Head to Newport, less than 20 miles south, for fresh seafood markets perfect for your timeshare kitchen. While there visit the Undersea Gardens with its fascinating underwater theater dive shows filled with action, special effects and surprises.
A timeshare rental vacation at lovely Depoe Bay and time along the remarkable Oregon Coast will give you and your family a seashore vacation unlike any you've ever experienced before.
(Photo shown is the WorldMark Depoe Bay)