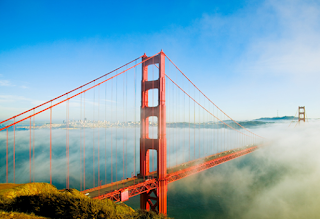 The impression that many people have of California is that it has a mystique all its own. And they're right. It's exciting, beautiful, fun, and so different from almost any place else on earth. That's why it ranks as one of the most "dreamed of" vacation destinations in the world. Take a family timeshare vacation to the Golden State, where you and the kids can discover California!
Most of you know that California is home to Disneyland, and what better place is there (for kids of All ages, of course)? Rent an Anaheim timeshare and spend a week playing – with Mickey and Donald and the whole gang. The best sightings of your kids' favorite Disney characters will be in Toon Town. From that same timeshare you can also play at Knott's Berry Farm – your teens will especially enjoy this park's famous Log Ride.
San Francisco (see photo above) has it all. A downtown San Francisco timeshare will put you in the perfect location for a central hub, from which you can explore the exciting City by the Bay. And speaking of exploring, a great spot for pre-schoolers is the Exploratorium with its many interactive exhibits. San Francisco's famous cable cars are great fun for the entire family. If you have small tykes, take the California Street cable car route – it's the most gentle. A walk along Fisherman's Wharf will give everyone a chance to see fishing boats of all kinds and shapes and colors.
A San Diego timeshare rental in will give the kids a great beach vacation. There are a number of beaches open to the public, including Pacific Beach, Mission Beach, and La Jolla Shores. Ocean Beach has the longest concrete pier on the West Coast, measuring 1,971 feet, and the public is invited to stroll the entire length. From here your can get a great view of the giant waves as they roll toward Ocean Beach's sandy shore. This is also a good viewing point for watching the local surfers. And while in San Diego don't forget the world famous San Diego Zoo, and Sea World.
Another beautiful California destination, with its share of biking, hiking and walking trails, is Lake Tahoe. Known for its world-class winter skiing, it has also been called "the ultimate summer outdoor playground." There are numerous beaches along the shore perfect for your little ones, where the "waves" are gentle ripples. Take the kids on a paddle-wheeler boat ride across the lake for the time of their lives. A Lake Tahoe timeshare rental here will be relaxing for the parents and offer lots of outdoor fun for the kids.
(Photo from visitcalifornia.com)
Categorized in: Anaheim timeshare, California timeshares, Lake Tahoe timeshares, San Diego timeshares, San Francisco timeshare