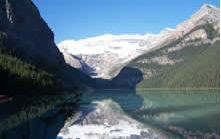 Now that sweltering humidity and stifling heat are covering much of the U.S.'s favorite east coast vacation areas – Orlando, Miami, Washington, D.C. – and the popular vacation destinations of the southwest deserts – Arizona, Las Vegas, Palm Springs – where to go? Why not head north and visit Canada – where it's cool to be cool and great to feel cool!
If you've never been to Canada, you might be surprised at the pristine natural beauty of our northern neighbor. Rent an Alberta timeshare and visit Banff National Park, Canada's oldest, and most popular, national park, established in 1885. The stark beauty of the majestic Canadian Rocky Mountains will take your breath away. Only an hour and half drive west of Calgary, this 2,560 sq. mile park of mountainous terrain is covered in dense forests, spreading alpine meadows, crystal clear lakes, and even has numerous glaciers and ice fields.
You can rent a Banff timeshare, the main commercial center in Banff National Park. Banff is home to numerous cultural institutions, including the Whyte Museum, the Buffalo Nations Luxton Museum, and the Cave and Basin National Historic Site, the site of a natural hot springs and an underground cavern.
Another town next to Banff National Park, is Canmore. When you rent a Canmore timeshare you can enjoy the popular Canmore Folk Music Festival is held annually on Heritage Day, a holiday that recognizes and celebrates the varied cultural heritage of Canadians. The 33rd Canmore Folk Music Festival will be held July 31 through August 2, 2010. It actually kicks off on Friday evening, July 30, with a free street dance, and culminates Monday morning, August 2, with a free pancake breakfast, complete with jamming musicians.
Wherever you rent your Canada timeshare, you don't want to miss must-see Lake Louise (see photo), located just 30 miles west of Banff. The stunning vision of this clear mountain lake perfectly reflecting the surrounding snowcapped mountain peaks is breathtaking, and will have you talking about it for years to come. While there be sure to take in the grandeur of the historic Chateau Lake Louise.
From Lake Louise follow the Icefield Highway north as it winds its way toward Jasper National Park. Along the way you'll be able to see the Columbia Icefields and the Athabasca Glacier, both visible from the highway.
And since you've been saving money on meals by using your timeshare kitchen, you can splurge and enjoy a taste of the Chateau's dining options which range from a gourmet sandwich at the Chateau Deli to fine dining at the four star Fairview Dining Room Restaurant. Kids 5 and under eat free, and some items are 50% off for kids under 12.
(Photo from discoverlakelouise.com)
Categorized in: Alberta timeshare, Banff timeshare, Canada timeshare, Canmore timeshare, rent a timeshare