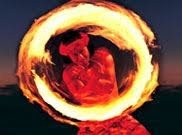 When you rent a Hawaii timeshare for your family's vacation, a must-do is attending a luau. We all know that fabulous Polynesian food, and exciting Polynesian entertainment, is what a luau is all about, but what are its roots?
In ancient Hawaii the traditional feast was known as an 'aha 'aini, and marked special occasions. The feast was eaten on the floor, on lauhala mats, with a beautiful, spreading, centerpiece made of ti leaves, ferns and native flowers. Bowls filled with poi, a staple of the Hawaiian diet made from pounded taro root, and platters of meat and fish, were set out, along with vegetables and fruits such as roasted sweet potatoes and fresh mangos.
The history of the luau, as described at hawaii-luau.com, tells this tale: The royal luaus tended to be big. One of the largest ever was hosted by Kamehameha III in 1847. The list of foods prepared included 271 hogs, 482 large calabashes of poi, 3,125 salt fish, 1,820 fresh fish, 2,245 coconuts, 4,000 taro plants among numerous other delicacies.
The favorite dish at these feasts is what gave the luau its current name. Young and tender leaves of the taro plant were combined with chicken, baked in coconut milk and called luau. Today, the name of that favorite dish has become the modern name of this favorite feast.
Every Hawaiian island offers luaus for your enjoyment. On Oahu, 3 favorites that are near your Oahu timeshare are:
Germaine's Luau has been around for almost 35 years (see photo), and is considered one of the best bargains. It's been described as "fun and high energy," with exciting, energetic performances of the dancers, drummers and torch performers. Located on Barber's Point, this luau takes place along the ocean's edge, under swaying palms. Delicious food combined with a non-stop, action-packed show, is what makes this luau so popular.
Paradise Cove Luau is situated on the stunningly beautiful beachfront grounds of the Ko Olina Resort, and is a little more expensive, but you can research discounts online. This luau actually goes all afternoon with many entertaining activities in which you can participate, including lei making, spear throwing, outrigger-canoe rides, and the hukilau (fish net pulling). You'll also enjoy the shower of flowers.
The Polynesian Cultural Center's Ali'i Luau has been named Hawaii's most authentic luau by the prestigious Kahili Awards. From the flower lei greeting to the traditional Hawaiian food to the captivating entertainment, this luau experience is sure to be a favorite. And the best thing? You can check their web site for recipes of many of your favorite luau dishes, to enjoy again in your timeshare kitchen!