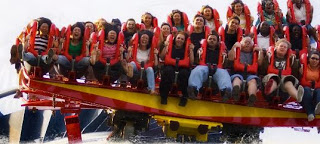 It's summer, and that means "Theme Park Season" is in full swing! All across the country theme parks of all kinds, sizes, and, well – themes – open their doors and offer summer fun for the entire family. So saddle up, rent a timeshare, and hit the road for these great theme parks.
For the younger ones in your family, the Sesame Street Safari of Fun is the newest addition to Busch Gardens Africa in Tampa Bay, Florida. Rent an Orlando timeshare and in just over an hour your kids can be climbing Elmo's Tree House, Flying through the desert with Grover, and splashing in Bert and Ernie's watering hole.
A Williamsburg timeshare in Virginia, will get you close to Busch Gardens Europe (see photo). This park, themed around the history and culture of old-world Europe, has several new attractions for the 2010 season. The "Europe in the Air" (formerly Corkscrew Hill) simulator ride is a journey around some of Europe's most famous landmarks. "Ramp Jam" is a new skateboard show, and "IllumiNights" is a park-wide fireworks and pyrotechnic show.
Stay in an Anaheim timeshare rental where you can see Disneyland Resort's newest "World of Color" show in California Adventure. This nighttime entertainment has more than 1200 fountains and includes laser, lights and fire. High definition projections on mist screens are similar to the ones used in Fantasmic! at Walt Disney World in Florida.
There are no less than three Sea World parks in the country. A San Diego timeshare rental, San Antonio timeshare or Orlando timeshare will get you to one of them. See exciting shows with seals, walruses and orca whales, as well as exhibits of all kinds of marine life. Sea World Orlando also has wild roller coasters, as well as two sister parks: Discovery Cove where you have the opportunity for the unique experience of swimming with dolphins, and Aquatica, Sea World's one-of-a-kind waterpark.
Speaking of waterparks, the largest one in America is Noah's Ark, in Wisconsin Dells, Wisconsin. There are plenty of budget friendly Wisconsin timeshares available here for rent, and you'll need all of the timeshare vacation days you can get to see all of this park's 49 water rides, including the Black Anaconda and Time Warp, 2 giant pools, 2 endless rivers, and 4 children's water play areas. And that's not to mention other attractions such as the 4-D Drive-in Theater.
And for the ultimate summer experience of theme parks, check out SkyCoaster at Fun Spot USA in Kissimmee, Florida, for an extreme adrenalin rush. Not really a "coaster," this ride is more like a free-fall sky dive as it sends riders soaring through the air at speeds approaching 80 mph from a 300-foot high tower. See Kissimmee timeshares.
(Photo provided by buschgardens.com)