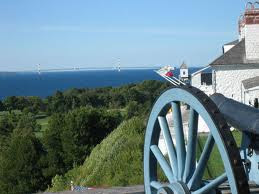 Are you still trying to beat the summer heat? A great place to head for relief is Mackinac Island in northern Michigan, where summer temperatures are in the pleasant mid-70's. Mackinac Island (actually pronounced "Mak-in-aw") is located in Lake Huron at the eastern end of the Straits of Mackinac. Rent a timeshare in the area and enjoy a lovely summer family vacation that includes everything from ferry boats to horses.
Mackinac Island is a unique and fun place to take the family because motorized vehicles (except emergency vehicles) have been banned here since 1898. That means that besides on foot or bicycle, the only means of getting around is by real horsepower. There are horse-drawn taxis, horse-drawn trash collectors, and even horse-drawn UPS deliveries!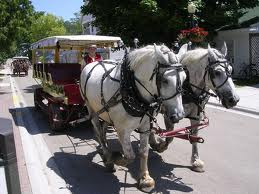 In fact, Mackinac Island Festival of the Horse is an annual July event, "celebrating all things Equine on Mackinac." Plan next year's timeshare rental vacation to take advantage of this exciting festival where you'll see a saddle horse parade, a blessing of the horses, a breed show and a fun symposium all about the horse. The Mackinac Island Chamber of Commerce explains it this way: "The Island prefers to embrace our lack of motorized technology for two reasons, its keeps the Island quaint and beautiful, and we feel the horse is God's gift to mankind just like the old Arab proverb says."
If you're looking to escape the heat of the Dog Days of Summer, Mackinac Island has a couple of festivals in August, too. The 2010 Mackinac Island Music Festival will be held August 17-19. Local, statewide and nationally-acclaimed music artists showcase a variety of musical genres, including folk, bluegrass, classical, Broadway, jazz and country.
To give you a good excuse to indulge in decadent, creamy fudge, the 2010 Mackinac Island Fudge Festival will be held August 20-21. Festival events feature the culinary arts of Mackinac Island's 17 fudge shops, as well as various restaurant chefs and bartenders, all accompanied by musical and dance performances.
While visiting the island be sure to stop by the historic 19th century Grand Hotel. You may recognize it as the backdrop for the movie "Somewhere in Time," starring Christopher Reeve and Jane Seymour.
Great timeshare rentals are available just an hour from Mackinac Island in both Bellaire and Boyne Falls, Michigan. The kids will especially enjoy the fact that the only way to get across to Mackinac Island is by passenger ferry boat. And, yes, you are allowed to bring your own bicycles.
Top photo courtesy derekgrasman.wordpress.com
Center photo courtesy michigantalknetwork.com