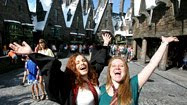 The Wizarding World of Harry Potter opened June 18, 2010, at Universal Orlando. "If you're a Harry Potter fan, it's a dream come true," said one excited fan. After just 5 weeks the new park has seen almost a million and a half visitors. Which is why having a timeshare rental when you head there yourself is one of the smartest things you can do!
Those of you who are old hands at timeshare vacations already know what you newbies will learn quickly enough – it's great to have a place to stay that is not only budget-friendly, but also spacious, and gives you enough vacation time to enjoy activities without getting worn out.
The Wizarding World of Harry Potter is proving so popular that Universal is learning what crowd-control is all about. Its latest announcements are suggesting that you come in the afternoons after 3pm when the crowds have dissipated somewhat. Since you'll have a timeshare with lots of room for relaxing, you'll easily be able to follow that advice.
One reviewer said, "Obviously, crowds were going to be massive, and visitors should expect that. Frankly, I think Universal's done a wonderful job so far."
When you do find yourself in a long line, you'll see that Universal has planned even that to be a part of your Harry Potter experience. As you can imagine there is quite a wait to get onto the Forbidden Journey ride, the centerpiece of the theme park.
However, as this review explains, that's all part of the fun. "The queue line for this ride is almost as much fun as the ride itself! I know, hard to believe, but I really enjoyed the line. As you move from section to section of Hogwart's Castle, you see a different show with different effects and props. In fact, I liked that I was able to move slowly through the castle to appreciate all the shows and effects."
Robert Niles, publisher of ThemeParkInsider.com, a website devoted to theme-park news, said the reviews of Universal's handling of the crowds so far have been generally positive. "I think almost everyone understands that this is a hugely popular thing and there's going to be a lot of waiting involved," Niles said. "People are used to the fact that the really popular things are going to have lines."
With an Orlando timeshare, you'll have up to a week's time to enjoy the Wizarding World of Harry Potter. Let the crowds mass at the gates at 7am – you can sleep in, enjoy a leisurely breakfast in your timeshare kitchen, take a swim in the resort's pool, and generally just ease yourself into your Harry Potter day!
Photo courtesy images.google.com