Daytona Beach, Florida, is a town along a sweeping beach beside the Atlantic Ocean. Known as "The world's most famous beach," due, of course, to its connection with NASCAR and the "Daytona 500" race, the beach itself is a wide expanse of beauty where the white sand is powdery soft and the splashing waves warm and inviting. A timeshare rental here will give your family a grand vacation any time of the year.
Daytona Beach is currently working to bring back the family-friendly atmosphere that once made this area so popular. In 2006 the city decided to sell to a developer land that once had delightful shops and a family activities center along a fun boardwalk.
The developer had plans to build a multimillion-dollar high-end redevelopment project designed to attract the wealthy.
However, when the real estate market bottomed out, the land development deal fell through. Enter Daytona Beach's new family-oriented Boardwalk with a new area of fun rides and attractions. You'll find rides here that every age family member will enjoy, including a Ferris wheel and a Tilt-O-Whirl. The Hurricane and the Slingshot are thrill rides that your teens will love. A roller coaster simulator ride is a new, fun way to ride spins, turns and drops. And the go-carts are a great attraction for your tweens. Plans for next year are to add a free-fall ride, as well as an alligator pond exhibit.
Stretching about 200 yards right along the edge of the beach, the Boardwalk has several access areas to the beach itself. After the rides, get a snack at the Boardwalk of famous fries or the ever popular caramel popcorn – all the more delicious mixed with salt air – and take the kids down to play in the sand and jump in the waves. Do be aware that depending upon the time of day, Daytona Beach does allow vehicular traffic to drive right along the beach.
Daytona Beach timeshare rentals include a number of budget-friendly options. The popular Daytona SeaBreeze has been remodeled in a fun 50's décor and sits right on the beach. Another beachfront resort is the Dolphin Beach Club where timeshare rentals start as low as $57/night.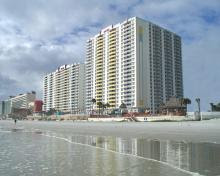 At the beautiful Wyndham Ocean Walk (see photo at right) rentals start at just $56/night.
Top photo courtesy daytona-vacation-rental.com
Right photo courtesy redweek.com
Categorized in: Daytona Beach Boardwalk, Daytona Beach timeshare, Daytona Beach timeshare rentals, timeshare rental