Article written by guest blogger: Joann Whetstine, Marketing Manager for RedWeek.com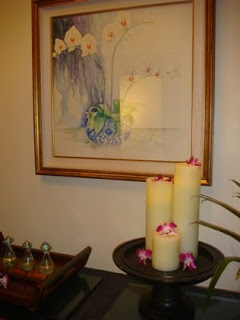 If you are planning to stay at the Hilton Hawaiian Village timeshare resort in Oahu, Hawaii, do yourself a favor and really pamper yourself by scheduling a relaxing massage at the Mandara Spa. Located on the 4th floor of the Kalia Tower, the Mandara Spa is not to be missed. The décor is so soothing, and the accommodations in the locker room and waiting area are so luxurious you just can't help but be relaxed just by being there, even before the service!
As you check in, you are presented with 4 essential oils to choose from for your massage service. From spicy to floral, there's a scent that will speak to you and help enhance your relaxation during your treatment. You are given a tour of the facility and your service that day gives you access to come back any time for the rest of the day, in case you want another trip to the steam room or Jacuzzi tub or wish to use the fitness center.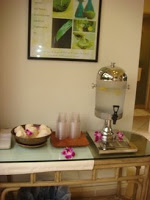 You are provided with a white robe, slippers and comfortable lounge chairs to enjoy a magazine while you wait, with a cup of lemon infused water to keep you hydrated. Waterfalls cascade to enhance your moment of zen. The masseurs are top notch and will always ask you throughout your massage if the pressure is to your liking. On our visit, my husband and I had the Hawaiian Ku'uipo Lomi Massage, side by side, which ended with a 30 minute dip in a private Hydrotherapy jetted tub for additional relaxation.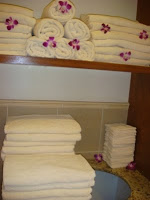 Everywhere you go in the spa, you'll see plumeria flowers as accents for decorations: On the towels, around the tub, placed around the Jacuzzi. A lovely reminder that you are in the beauty of Hawaii. We only experienced the massage on our visit, but, the spa has many other services such as facials, body treatments, hot stone therapy, beauty services and their fitness center to enjoy.
So, if you are looking for a special treat on your Oahu Timeshare vacation, schedule a visit to the Mandara Spa where an oasis of relaxation awaits you.