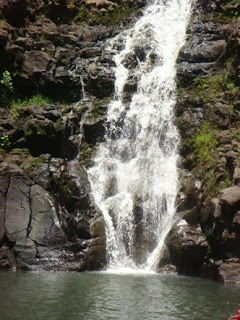 Hawaii is beautiful and a wonderful timeshare rental vacation destination. When staying in your Oahu Timeshare, be sure to visit the North Shore and plan a day exploring the beautiful Waimea Valley. If your family loves to be enveloped in nature in a beautiful tropical environment, you must visit the Waimea Valley which offers not only natural beauty, but also a chance to experience the cultural history of Hawaii.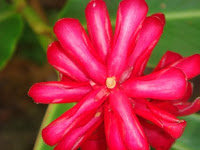 Two million years ago the Waimea Valley was carved by rain and wind from the side of the Ko'olau Mountains. With its range of environments stretching from the dry, salty sea to the cool, misty uplands, Waimea Valley is now home to a vast array of ferns, hibiscus, bamboo, tropical fruits and nuts invertebrates, birds, stream life, and Hawaii's only land mammal, the hoary bat. See a detailed list of the botanical collection.
Wear your walking shoes and plan to hike the trails for the best experience. You'll want to make it all the way to the breathtaking waterfall. If you bring your own towel and swim suit, you can plan to swim when you arrive. For those with trouble walking can buy a ticket at the entry booth to ride the Guided Tram for just $2 each way.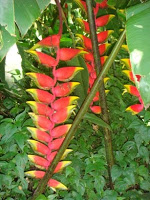 In addition to the beauty of the park itself, there are many activities you can take part in that occur three to four times per day:
The Teaching of the Kūpuna
Learn from the elders (kūpuna) as they teach you about life in Hawai'i through displays and demonstrations of Hawaiian artifacts, songs and dance, and crafts.
What's Blooming
Stroll the park with Botanical Collections Specialist, David Orr, as he highlights beautiful blooming plants and fruits. This walk is offered on the 1st & 3rd Sunday of each month.
Quiet Games
Pala'ie (loop and ball), hū (kukui nut tops), and kimo (jackstones) are some of the games that are played by kids of all ages.
Games of Skill
'Ulu maika (rolling stone disc), moa pahe'e (dart sliding), and kōnane (Hawaiian checkers) will test your skills of accuracy and strategy.
Hula Dance Lessons
Learn the traditional Hawaiian dance.
Lei Making
Using flowers grown at the park, weave a lovely flower necklace.
Waimea Valley is a historical, botanical and ecological wonder. The 1,875-acre natural environment offers an authentic cultural window into the lifestyle and customs of the Hawaiian people and is rich with Hawaiian history, spirituality and traditions. Costs are just $13.00 for Adults, $6.00 for Children (4 – 12), $6.00 for Seniors 60 years and older.
Categorized in: oahu timeshares, timeshare rental, Waimea Valley