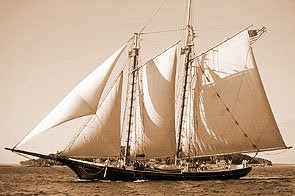 For all of you who have salt water in your veins and love to spend time around the sea, the 26th Annual Gloucester Schooner Festival is the perfect Labor Day Weekend event. Just 30 miles from your Boston timeshare rental, Gloucester celebrates the major contribution of the classic fishing schooner to the history of Gloucester and Massachusetts.
Over the weekend the city's harbor, the oldest fishing port on the Atlantic Coast, is filled with the sails of over 50 authentic old schooners and their replicas. And the festival is a rousing celebration from start to finish.
The actual start of the Gloucester Schooner Festival is a huge Block Party Friday evening, September 3rd. Here you'll be able to meet and mingle with other festival-goers, all here for one thing – good old fashioned fun, from music and dancing in the street to a cinema under the stars to children's art activities.
During the day on Saturday, September 4th, you'll have many activities to keep you busy. Start with the Walking Tour of Gloucester's Working Waterfront. Using 1880 maps and historic photographs, your Schooner Adventure guide will take you back to the waterfront's fishing heyday.
A visit to the Gloucester Maritime Heritage Center is where you'll learn what it was like to sail on a fishing schooner 100 years ago. Your kids will love getting up close and personal to a working vintage fog horn – which they can actually blow themselves.
The U.S. Coast Guard Station is also open for public tours on this day.
Boat races for traditional craft go through the afternoon, and then it's time for the "Parade of Lights," complete with fireworks over Gloucester Harbor.
Sunday, September 5th, opens with the stunning "Parade of Sail." All participating schooners raise sail and glide down the harbor, to accompanying announcements of the name of each ship and a bit of its history. You might even see an authentic cannon fired in salute from one of the ships.
Sunday afternoon the highlight of the Festival is the exciting Mayor's Race for the Esperanto Cup, a trophy from the first International Fishermen's Races held in 1920. This centerpiece race for 100-ft Schooners showcases beautiful ships and the well-trained crews that sail them.
A timeshare rental will give you and your family the chance to enjoy a truly American Labor Day Weekend celebration, one that is unique but also filled with the fun and excitement that every end-of-summer party should be.
Categorized in: Boston timeshare, Gloucester Schooner Festival, Labor Day, timeshare rental