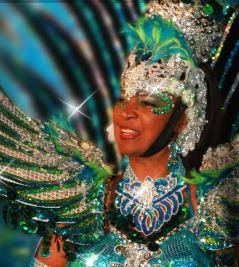 There's no end to the fascinatingly different ways Americans celebrate Labor Day Weekend. It's without a doubt a bittersweet holiday, traditionally marking the end of carefree summer days, but it's also an excuse for a great party. And if a great party is what you're looking for, head to Brooklyn for Carnival! Choose from the many wonderful New York timeshare rentals available, and take the family to this unique Labor Day celebration.
Events for the West Indian American Day Carnival are held every year from the Thursday before Labor Day through the weekend, culminating in the parade on Labor Day itself. In 2010 it celebrates its 42nd anniversary as it continues to enjoy the distinction of being New York City's biggest cultural festival.
In the 1920s immigrants from Trinidad and other Caribbean islands with a carnival tradition began celebrating Carnival privately, and by the mid-forties this Carnival celebration had become a NYC street festival held every Labor Day.
Highlights of the Carnival include a steel band competition, a Dimanche Gras (Fat Sunday) extravaganza and a special Kiddie Carnival. And what is a celebration without great food? The mouthwatering Carnival culinary offerings include Caribbean dishes such as Jamaican Jerk Chicken and Bajan Fried Flying Fish. Your sweet tooth will enjoy coconut bread, aloo pie, and even raw sugarcane.
The most characteristic sound of the Carnival is the iconic Caribbean steel band. Interestingly, the steel bands were developed from necessity when drums were banned by the British government in Trinidad. The people used all kinds of objects as percussion instruments until the 1930s when someone discovered that dented sections of oil drums produced different notes. At the Carnival, steel bands play to win the "Panorama" competition.
Early Labor Day morning (very early – things start at about 3:00am) the J'Ouvert Parade begins – a celebration of steel pan drums that kicks off the main parade that starts at 11am. Without a doubt the centerpiece of the Carnival is this exciting, and extraordinarily colorful, Labor Day Parade. As up to 2 million spectators cheer, thousands of merrymakers dance along the parade route to the sounds of reggae and calypso music, and floats filled with elaborately costumed masqueraders, illustrating a particular lavish theme, compete for cash prizes.
A New York timeshare rental and Carnival! What better Labor Day celebration could you ask for?!
(Photo provided by wiadca.com)