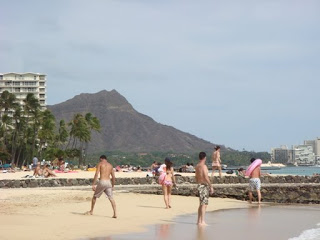 Just about everyone knows that Hawaii is a dream vacation spot. But "Hawaii" isn't just one big destination; it's several small ones, each with its own personality, charm, and distinctive flavor. How to choose the best Hawaiian Island for your timeshare vacation? We'll help.
Kauai
At the top of the Hawaiian Island chain is the island of Kauai. This is the oldest and most northern of the islands, and is distinctive for its extraordinary natural beauty. The lush tropical vegetation has earned Kauai the nickname "The Garden Island." Kauai highlights include stunning Wiamea Canyon, known as the "Grand Canyon of the Pacific," the Napali Coast with its spectacular sea cliffs, and Wailua River – the only navigable river in the entire state of Hawaii. See Kauai timeshares.
Oahu
The next link in this island chain is Oahu, home to Hawaii's state capital, Honolulu, and most of Hawaii's population. Oahu is a mix of scenic wonders and cultural events. Oahu highlights include Waikiki Beach, that iconic beach destination known the world over, (see photo of Diamond Head) Pearl Harbor with its U.S.S. Arizona Memorial, and North Shore, birthplace of giant wave surfing. See Oahu timeshares.
Maui
Maui is the second largest island, and offers some of the most beautiful beaches in the world, some of the best whale watching in the world, and is the "windsurfing capitol of the world." Other Maui highlights include watching a spectacular sunrise from the top of the Haleakala crater, and driving a breathtaking scenic route to the charming little town of Hana. See Maui timeshares.
Big Island
Hawaii's Big Island is larger than all of the other islands combined, and is vast enough that it amazingly holds 11 of the world's 13 climatic zones. This means that the things to do on this island vary immensely, from basking on sandy beaches to hiking above the timberline on snowcapped mountains. Highlights of the Big Island include Hawaii Volcanoes National Park with a view of Kilauea, one of the world's most active volcanoes, and dazzling waterfalls along the Hamakua Coast. See Big Island timeshares.
So as you can see, like a delicious smorgasbord Hawaii offers a wonderful variety for every taste. Visit HawaiiGaga.com for more ideas on choosing the best Hawaiian island for you. And if you're looking for beautiful accommodations with lots of space at budget prices, visit RedWeek.com and see all the Hawaii timeshare rentals available.