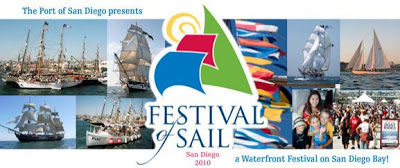 Still need an idea for Labor Day fun? Rent a San Diego timeshare and join in San Diego's incredible "Festival of Sail." Sponsored by the Maritime Museum of San Diego, this exciting 5-day event, which includes an awesome parade of tall ships, starts Thursday, September 2, 2010, and goes through Labor Day, September 6th.
For anyone who is crazy about ships and sailing, this is the Labor Day event for you! Great fun for the entire family, you'll find plenty to do including boat rides and tall ship cannon battles, along with live entertainment.
"Previously the festival was held in San Diego every three years, but that is changing. We are going to do it annually now because the public loves it so much," said Robyn Gallant, Marketing Director of the Maritime Museum.
This unique Labor Day celebration starts at 11am on Thursday morning with the awe-inspiring Tall Ships Parade that sails through San Diego Bay. The flotilla will dock along the North Embarcadero at the Maritime Museum of San Diego. The public is invited to purchase "passports" which give you access to actually go on board and tour the tall ships.
Other activities include the chance to sail with the Tall Ship of the Golden State, the Californian, to battle the enemy with authentic Civil War cannons. Or you might choose a cruise on the replica of the original America's Cup yacht, America. Or plan to ride on the Stars and Stripes or the Abracadabra, both America's Cup racing yachts, out for an on-the-water perspective of the festivities.
Meanwhile, there are plenty of other activities such as a fun petting zoo for the kids. The youngsters will also enjoy getting up close and personal with pirates. Live entertainment from a variety of genres includes Contemporary Rock, Sea Chanteys, Mariachi groups and Steel Drum Bands. Over 150 arts and craft vendors and a multitude of options at the food court are also available.
"This event really brings awareness, not only to the museum, but to what San Diego has to offer," states Gallant. And all that San Diego has to offer can also be enjoyed from your San Diego timeshare rental, including its wonderful beaches, beautiful Balboa Park, and even Sea World. A Labor Day vacation in San Diego is a perfect choice for great family fun, and one you might now want to make an annual tradition.
Categorized in: festival of sail, Labor Day, San Diego timeshares, san diego travel, timeshare rental