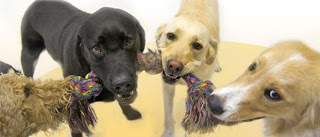 On August 27, 2010, Walt Disney World (WDW) Resort is pleased to announce luxurious new accommodations will be available for the family pet at the Best Friends Pet Care Resort at Walt Disney World. The five boarding kennels that have been operating at WDW have been phased out to make room for this new, one-of-a-kind, 50,000 square foot pet facility right next to your Disney Vacation Club Timeshare resort.
The Pet resort consists of secured indoor and outdoor space, including 17,000 square feet of air-conditioned indoor space, 10,000 square feet of covered outdoor runs and play areas, and an exclusive private dog park with artificial turf, shade trees and a water park feature.
The large facility can accommodate up to 270 dogs and 30 cats for both daytime and overnight boarding. You can choose from a wide selection of suites with dog options ranging from in-room televisions, raised bedding and private outdoor yards.
Cats reside in the "Kitty City" pavilion, separate from the dogs, with two and four-room condos available to choose from and suites are cleaned daily.
"Best Friends has long been the industry leader for boarding, and this will be our crown jewel. We've taken the 'best of breed' in every category to create the perfect environment for pets," said Dennis Dolan, President and CEO of Best Friends Pet Care. "Our goal is to ensure that pets staying with us have a fun, action-packed vacation – just like their families vacationing at Walt Disney World."
To make sure your dog has a great visit, you can choose from additional activities including: one-on-one playtime, doggy day camp, story time and a visit to the groomers. With amenities including Ice Cream Treats, Bottled Water and Premium/Orthopedic Bedding. Activities for cats consist of private playtimes, activity toys in their suites, and treats such as Cookies and Milk or Tuna on a Ritz.
In addition to dogs and cats, the facility also provides boarding accommodations for "pocket pets" such as hamsters, guinea pigs, rabbits and ferrets. Pet parents must provide their own housing/cage and all supplies (food, bowls, litter, etc.)
The pet resort is located across from the Port Orleans Resort at 2510 Bonnet Creek Parkway in Lake Buena Vista, FL 32830. Discounts are available for Disney timeshare resort guests.
(Photo courtesy of wdw.bestfriendspetcare.com)