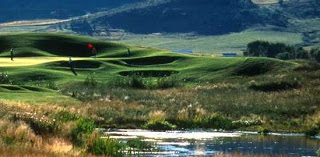 Did you ever want to drive a golf ball like a pro? You can experience what that feels like by renting a Colorado timeshare and playing the beautiful golf courses that are high in the Rocky Mountains. At these courses the clubhouse is anywhere from 6,000 to 9,000 feet up – resistance in the thinner mountain air is reduced and balls fly straighter and farther.
Late summer into fall is a perfect time to be planning a timeshare rental golf vacation in Colorado. Up in the mountains the sun is warm, the air is cool and refreshing, and soon the graceful aspen will be turning to dazzling gold, brilliant against the clear blue sky. Take a look at some of the Rocky Mountain golf courses we have listed here:
Steamboat Springs
Up in the northern part of Colorado, there are a number of beautiful Steamboat Springs timeshare rentals from which you can choose. Then head to the Haymaker Golf Course (see photo). Nestled in ranchland with vistas of valleys and mountains, you'll enjoy this course by award-winning designer Keith R. Foster. One golfer said this:


"This course is amazing…even the worst round is made better by the spectacular views in any direction."

Pagosa Springs
In the southern part of Colorado along the San Juan Mountains you can rent a timeshare at the beautiful Wyndham Pagosa and play golf at one of the Pagosa Springs Golf Club's 3 courses: the Pinion Course, the Ponderosa Course, and the Meadows Course. One golfer said this:


"I very much enjoy playing this Club…All three of the courses are challenging in their own way, and lots of fun."

Breckenridge
With great timeshare rentals always available, you'll have a fun Breckenridge stay, and golf at the Breckenridge Golf Club. The elevation here is over 9,000 feet so you'll get to see your ball really fly across the course designed by Jack Nicklaus. One golfer said this:


"Great public course! Perhaps the finest municipal course I've ever played! Has a country club feel."

Vail
There are numerous timeshare rentals available throughout this area, and one of the finest golf courses in Colorado, Eagle Vail Golf Course. "The perfect combination of a gentle river course and a challenging, yet fair, mountain course." One golfer added:


"Play in the fall and watch Mother Nature put on the greatest show you've ever seen."
These and many other great golf courses are available for you to hone your grip and practice that putt amidst spectacular Rocky Mountain scenery. Rent a Colorado timeshare and have the golfing time of your life!
(Photo from haymakergolf.com)