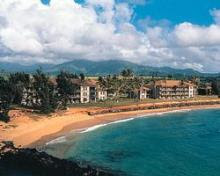 For most people, a first timeshare rental vacation trip to Hawaii is to either Oahu or Maui, both very popular tourist destinations. Once you've visited these two beautiful islands, and you want to venture out, head to the Garden Island of Kauai. For a first-time visitor it's always the same – "I can't believe anything is this beautiful!"
Kauai is Hawaii in a true natural state. It's called the Garden Island for a very good reason, being covered in lush tropical vegetation. You'll see rainforests complete with climbing vines and wild orchids; plunging waterfalls sparkling like diamonds; and miles of swaying coconut palms.
This island offers many opportunities for spectacular scenery not seen on the other islands. One of the most unbelievable is Waimea Canyon. For your first-time Kauai visit, this is a must-see. With its deep chasms and multi-colored red- and orange-hued strata dotted with lush greenery, it's easy to see why it's also known as the Grand Canyon of the Pacific.
For a real adventure, your first time on Kauai wouldn't be complete without a Mud Bug tour (plan on getting wonderfully dirty!). You'll go from the little village of Poipu past an old sugarcane factory, through a tunnel and all the way up to a waterfall and pool near the town of Wailua. The "mud" part of the tour comes from zipping around the dirt roads of Kauai where you'll really get close to nature!
A good itinerary to consider is booking your Mud Bug tour in the morning. That way you'll be able to spend some time back at Poipu Beach Park afterwards, where you'll get a chance to see the endangered Monk seals as they laze in the sun. On your way back to your timeshare rental be sure to stop by Spouting Horn and watch ocean water shoot high up through an ancient lava tube.
You can take a boat tour up the Wailua River – the only navigable river in the entire state of Hawaii – or even go kayaking to the amazingly beautiful Fern Grotto. Frequent visitors to Kauai also suggest checking out the dry and wet caves in and around Ha'ena State Park, stopping at Banana Joe's in Kilauea for a smoothie "as good & fresh as it gets," and then taking a short drive out to the Kilauea Lighthouse.
With all of these and many more great things to do and sights to see on Kauai you'll be glad that your Kauai timeshare rental gives you a full week for your first visit – you're going to need it all!
See Marriott Kauai Beach Club timeshares
See Marriott Waiohai Beach Club timeshares
See Pono Kai Resort timeshares (shown in photo above)