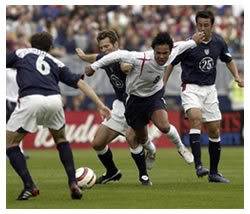 With Fall coming on many of you will be seeing footballs sailing through the crisp autumn air. Baseball fans are already gearing up for the World Series. NASCAR® is in high gear in Daytona Beach. And all of this is a reminder that there quite a few of you sports fans out there. There are sporting events all over the world (think surfing competitions in Australia, ski championships in the Alps, and everywhere – soccer). You can plan a sports vacation by renting a timeshare with your buddies, or as a family adventure, and indulge the sport fan that you are.
Did you know that as a traveling sports fan you are part of the $600 billion "Sports Tourism" industry? Recently a delegation of top travel and sports officials gathered in London for the announcement of a new annual report that will "examine the dynamics and potential" of this huge multi-billion-dollar world-wide phenomenon.
The much anticipated 2010 Sport Tourism Report will be launched at the 2010 World Travel Market in London this November, and will have a global reach to an estimated 200,000 travel and tourism professionals. This ground-breaking publication will give an overview of the Sports Industry as the fastest growing travel sector in the world.
Leading analysts predict that Sport Tourism will post record profits and "contribute an astonishing 14 percent of overall travel and tourism receipts by the end of 2010. At a time when some traditional tourism trends are in decline, sport tourism continues to flourish and is set to grow exponentially in the next decade," stated one delegate.
The report follows the huge success of the inaugural World Sport Destination Expo – the first dedicated Sport Tourism exhibition and business forum which took place alongside the final week of the 2010 FIFA World Cup in South Africa this summer.
Timeshare rental and timeshare exchange are two ways you can plan a budget-friendly sports vacation. While the cost of sporting event tickets, as well as air travel, are on the rise you can still plan on a budget-friendly timeshare for great accommodations.
The U.S. Open champion tennis play is in full swing now through the middle of September. You can find a wonderful NYC timeshare rental. Or, how about seeing your favorite golf pros at PGA tournaments? Several will be held around Florida this fall – where you can rent timeshares in Orlando, Miami, and along Florida's Paradise Coast.
With so many sports events going on all year and all over the world, and with great timeshare rentals, it's easy to be part of the great Sports Tourism phenomenon. Play Ball!
(Photo courtesy of photobucket.com)