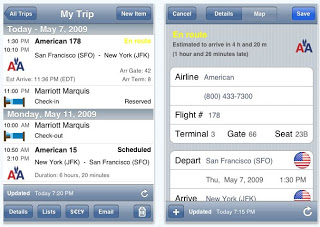 Apple's iPad has been on the market for several months now and is doing superb business. And it's no surprise that this "tablet PC" has become a real "must-have" for travelers. When you plan your timeshare rental vacation, take along your iPad. Not only does it lighten the load (use it instead of your laptop) but it's mighty handy for instant travel information.
Below are some of the top travel apps for your iPad as suggested by Jen Edwards, contributor to Travel PC Review.
Travel Organizer
TravelTracker Pro (see photo) handles everything from flight and rental car information to packing lists and budget management. It also saves time by integrating with TripIt so you don't have to enter all of the details yourself.
Currency Conversion
With Converter Plus you'll always be on top of the latest rates (it automatically updates rates every time you open the app), and foreign shopping will be a joy since you'll never fumble again with currency conversions. A bonus is that this app converts everything else you can think of including distance and mass and volume to velocity. It also does loan, mortgage and tip calculations.
Language and Translation
The best dictionary is Ultralingua which has detailed hyperlinked definitions as well as verb conjugation and a number translator. For a basic phrasebook, World Nomads is the one – it contains an introductory audio lesson and covers all of the basics. If you want to learn a little more of the language use Byki which uses a three-step learning process to help build your vocabulary. And finally, if you want learn enough of the language to get by in just about any context use Survival Phrases which includes audio lessons and flash cards.
Weather
There are many good weather apps but the one Edwards recommends is AccuWeather. It's the easiest to use, offers clear forecasts, and gives you detailed information such as hourly and lifestyle forecasts, along with radar maps and high quality video forecasts.
Navagation
As an adjunct to your GPS system use Beat the Traffic. Its detailed information will help you plan a route around traffic accidents, construction sites, and traffic jams due to special events.
Dining Out
Urban Spoon is the top app for restaurant information and integrated maps. You can find the information by cuisine, neighborhood, price range, or most popular. More detailed information about each restaurant, including photos, menus, and critiques and reviews, is available if you have a 3G iPad.
A timeshare vacation anywhere in the country or the world has never been so fun – or so easy. Do you have an iPad travel app that is your favorite? Let us know! We welcome your comments below.