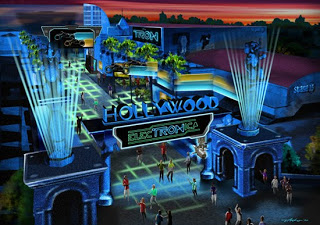 If you're part of the many Disneyland Resorts visitor's who rent Anaheim timeshares and love to visit the Mouse, you may already know that there is an area in California Adventure, over by the Tower of Terror, that is kind of, well, a dead space.
No more! Opening October 8, 2010, that area in the Hollywood Pictures Backlot comes alive with "ElecTRONica"! This spectacular "party" will light up on Fridays, Saturdays and Sundays, and will also be open every day during the major holiday weeks of Thanksgiving through Christmas.
It's a new world – and even Geeks are welcomed to Disneyland! The movie, "TRON: Legacy" opens December 17th, and "ElecTRONica" gives fans a chance to peak inside the world of the movie ahead of time.
"TRON: Legacy" is a sequel to Disney's 1982 film "Tron," which has a large cult following. Jeff Bridges reprises his role as Kevin Flynn, a man once known as the world's leading video game developer. Bruce Boxleitner reprises his role as Alan Bradley, and Tron, the security program developed by Bradley. Garrett Hedlund plays Flynn's now-adult son, Sam. Electronic music duo Daft Pink composed the film's score.
ElecTRONica is planned as "the greatest dance party to ever rock Disney California Adventure Park." It's an "electrifying" experience that all members of the family can enjoy. From a dazzling futuristic dance club under the stars to an authentic recreation of Flynn's Arcade to some radical gaming, "it's like nowhere else on the grid!" Each night there will be live entertainers complete with lasers, glow accessories and the hottest music. ElecTRONica is The place to dance the night away in a fantastic world that only Disney can create. Expected highlights for all family members are Flynn's Video Arcade, face painting, and the TRON: Evolution video game area.
So, make your timeshare rental plans now, and head for this "electrifying experience for the entire family, filled with music, lights and some of your favorite food and beverage, all set amidst the captivating world of 'TRON: Legacy!'" Go Disney!
See timeshare rentals at The Villas at Disney's Grand Californian.
(Photo courtesy disneyparks.disney.go.com)