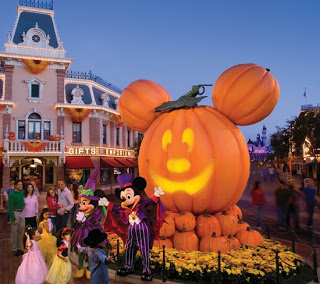 Fall is here – the kids are back in school and Halloween is next month. And Disney is geared up to kick off the Halloween Season on September 17th. So Now is the time to make your timeshare rental plans – at a Disney timeshare rental, or one in Orlando or southern California – and you and your family will be ready to "trick" or "treat" your way through Disney.
Both Walt Disney World in Florida and Disneyland Resorts in California love having fun with Halloween, which is why they start the "party" so early. They want all of you to have the opportunity to join Mickey and the gang in celebrating this fun holiday.
The entire family is invited to dress up in Halloween costumes for Mickey's Halloween Party (formally known as Mickey's Trick-or-Treat Party) which has moved from California Adventure over to Disneyland this year (2010). A benefit of the Disneyland location is access to nearly all of Disneyland park with your Halloween Party ticket.
Mickey's Halloween party also rocks with, ah, "spirited" music. And there will be fun, interactive games for the kids and a nightly character cavalcade with Mickey Mouse and other favorite characters dressed up in their Halloween costumes. This is also the time to keep a watch out for the Disney villains, who undoubtedly have some "tricks" up their sleeves.
New this year for Halloween season at Disneyland will be Space Mountain Ghost Galaxy, where you'll be launched into an uncharted – and haunted – section of the Universe. "Out of the darkness and swirling galaxies of Space Mountain, ghosts try to pluck riders from their seats as they speed through space. The drops and curves of the journey are even scarier with piercing screams and haunting music."
At Walt Disney World the family is invited to join the festivities at Mickey's Not So Scary Halloween Party in the Magic Kingdom. (This will be the only time and place at WDW that the family is allowed to come in costume.)
Here you'll enjoy the "Boo To You" Parade showcasing Disney characters dressed up in their Halloween costumes, and leading the parade is non other than the Headless Horseman. Later don't miss the "Happy HalloWishes" fireworks – a "spooktacular" display. During the fireworks the Disney villains go trick-or-treating in the sky.
Insider tips include: white balloons mark the treat stations, trick-or-treat lines get shorter as the night goes on, the second parade is less crowded, and the Merchant of Venus in Tomorrowland is Halloween Headquarters.
Disney's Halloween events occur on selected nights September through October, and require a separate ticket.
See Orlando timeshares.
See Anaheim timeshares.
(Photo credit disneyblog.disney.park.com)