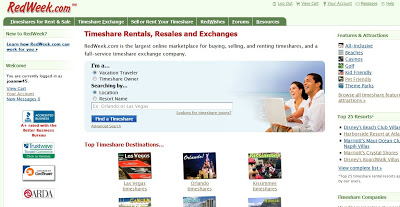 Just in time for the winter travel season, RedWeek.com, the leading online timeshare marketplace, rolls out a fresh look and faster operating speeds. Site enhancements include a new color scheme, a refined search module on the homepage, and increased operating speed thanks to an updated content distribution network (CDN).
"In today's competitive environment, it is imperative that we keep the site fresh and running at peak efficiency," said Michael Reeps, RedWeek director of design and development. "The new look puts a fresh face on the site, and the back-end upgrade to the CDN will result in faster browsing speeds for our users."
The upgrade to the site's content distribution network brings the unique content found on RedWeek closer to the end-user. Instead of serving an image from the site's main server in Seattle, images are maintained in CDN data centers worldwide, greatly decreasing the amount of time a page takes to load. RedWeek chose Akamai as their CDN as they are the largest and most respected in the industry.
RedWeek.com is the premier website for by-owner timeshare rentals and resales. With nearly 1.5 million registered users and an A+ Better Business Bureau rating, more-and-more people are turning to RedWeek for their timeshare and travel needs. Owners are able to advertise their unused weeks for rent and also sell their timeshare outright when it no longer meets their needs. Travelers are able to find amazing deals on timeshare rentals and resales.