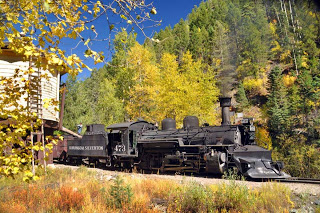 Fall color in the western mountains can be as impressive as foliage in the eastern woods. Rent Pagosa Springs timeshare in Colorado, and see huge stands of golden aspen dazzling against a startlingly blue sky. You'll find yourself breathless, and not just from the high mountain air.
One of the best ways to see untouched and unspoiled autumn beauty in Colorado is to ride the Durango and Silverton Narrow Gage Railroad. Durango is less than an hour's drive from your Wyndham Pagosa resort, and sits nestled in the beautiful San Juan Mountains.
Durango actually got its start as a railroad town, built in 1879 by the Denver & Rio Grande Railway. By 1882 rail lines had been carved through the mountains, constructed to haul silver and gold ore from the many mines around the mountain town of Silverton.
While you can drive on a modern highway between the two towns, riding the train offers a unique vantage point for viewing some spectacular scenery. By train you'll pass through canyons and along mountains in areas that are completely inaccessible by any other means.
The Durango-Silverton trip is so exceptional it received a 5-Star award from the National Association of Travel Journalists and was named one of the top ten most exciting train journeys in the world by the Society of American Travel Writers.
Besides seeing beautiful scenery, riding the train is just plain fun. This historic train has been in continuous operation for 128 years, carrying passengers behind vintage steam locomotives and in cars indigenous to the line. You'll relive the sights and sounds of yesteryear, from the clickity-clack of the wheels and the gentle swaying of the cars, to blowing cinders and the sounds of the great steam whistle.
To really enjoy the fall colors, the Durango and Silverton Narrow Gauge Railroad actually offers photography tours. The 21st Annual Fall Photo Special will be held September 25 & 26, 2010, and October 2 & 3, 2010. In addition, five sessions are scheduled for exciting Night Photography.
Another fall event on the train is the Cowboy Poet Train, part of the Durango Cowboy Gathering, October 1, 2010. This tour goes from Durango to gorgeous Cascade Canyon.
On October 16 & 17, and 23 & 24, 2010, hop aboard for the Peanuts™ The Great Pumpkin Patch Express. Wear your Halloween costumes (adults and kids alike!) and head down the track on a fun thirty-minute ride to meet Snoopy, Lucy and Charley Brown, pick your own pumpkins, find your way through a straw bale maze, and even go trick or treating!
There are many great reasons to take your family on a fall timeshare rental vacation, and getting to ride the amazing Durango and Silverton railroad is certainly one of them.
See all Colorado timeshares.
(Photo credit durangotrain.com)